Three-day pouring rain and wind storm kills over 30.000 sheep in Uruguay
Thursday, September 19th 2013 - 07:55 UTC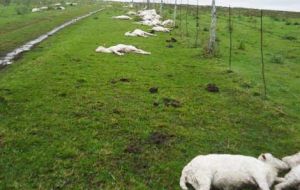 Thousands of sheep dead, 1.500 people evacuated, blown roofs, flooded roads and farm land was the result of three days non-stop of pouring rainfall and strong winds that punished Uruguay beginning last Friday.
The storm was particularly fierce to the north and northwest of the country where recently sheared sheep flocks could not resist the cold and constant water downpour, following an exceptional winter week in which temperature had reached 30 Celsius.
According to the regional chief from the Uruguayan Wool Secretariat Adolfo Casaretto, an estimated 30.000 sheep (ewes and lambs) so far have been reported in the northern counties of Salto, Tacuarembó, Paysandú and Artigas.
However "we are calling on sheep farmers to report all dead animals to the local police and warning the local population not to consume mutton and lamb killed by the storm".
"We know some people are not reporting the dead animals so the number could be higher", said Ruben Echeverría, head of Uruguay's Rural Association, ARU, who revealed that further south in Uruguay, most dead animals were recently born lambs.
"This a huge loss for farmers, but also for the country because it will have an overall impact on the country's flock (7.8 million head), and in wool and lamb exports" added Echeverría who underlined that the high mortality can't be attributed to farmers' negligence, "nobody could expect, and nobody forecasted, a storm of this magnitude and for so long, at least three days running".
In the north-western county of Salto, 9.769 deaths were reported. Farmer Walter Galliazzi said that although the sheep had been sheared 25 days ago, "they could not stand the 200 mm of downpour plus low temperatures and strong winds".
In neighbouring Tacuarembó county over 5.000 ewes and lambs were lost, but the president of the local rural association, Jose Luis Tuneu said the figure could be closer to 10.000.
"Even when we were hoping for rain, --we thought we had a dry spring ahead--, but nature overdid it and in some areas it rained 250 mm in 48 hours. This is lambing time and what's happened is very damaging" said Tuneu.
Meanwhile the consequences of the storm triggered a strong controversy between Uruguay's Executive Deputy Secretary Diego Cánepa and a south Brazilian weather site, MetSul, mostly used by farmers, surfers and tourism operators in Uruguay. (The Uruguayan Meteorological Office has been on strike for almost six months now demanding better pay and working conditions and is not considered so reliable).
Canepa claimed that the media had picked on MetSul forecasts and had over blown the impact of the storm, and argued in his twitter that "it is a new weather pattern that Uruguay is suffering" and that is why "it was so surprising".
"Irresponsible" was the immediate response from MetSul which argued there was "nothing new about weather. We have over a century of records on storms and shipwrecks".
The Rio Grande do Sul MetSul site added "We are involved with Science, not Politics. Ignoring the climate records of the past is the best way to disastrously plan the future".
President Jose Mujica also got involved in the controversy but from a different angle. He anticipated farmers would come rushing for losses' compensation money from the treasury, "but I can't give out peoples' money to farmers and their organizations that have been repeatedly advised for years, to create an emergency fund for this type of climatic phenomena".