A 'message in a bottle' dropped in South Georgia reaches NZ three years later
Friday, September 20th 2013 - 20:07 UTC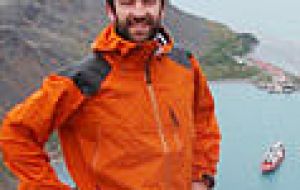 A 'message in a bottle' dropped just off the north-western end of South Georgia three years ago has washed up on Stewart Island, off the south end of New Zealand - more than half a world away, reports the July edition of the South Georgia Newsletter.
The bottle, which had travelled around 13,000 km, was found at Masons Bay by Simon (Si) Taylor who was there with his family and friends doing some beach-combing. "I was super stoked as I'd found a piece of gris (ambergris) and I saw a bottle in the distance but didn't think much of it as there's quite a bit of c**p on the beach. It was only when I saw the screw cap was intact and there was something inside that I went for a closer look." Inside the bottle was a two page letter from fishery researcher Luke Kenny.
Luke, who was on a fishery science cruise in May 2010, released five bottles with messages in that year from various locations around South Georgia and en route to the Falkland Islands. This was the first bottle he launched; none of the others have, to his knowledge, been found.
The finder, Si, said, "I had no idea where South Georgia was!" But he knew a bit more once he had read the message, as Luke had taken the time to draw a map and had described not only the Island, but that he had been working there as a scientist on the KEP base. He wrote' "I am 30 years old and from Ireland. However, for the last 8 years I have spent little time there. Instead I have kept moving, working in the Falkland Islands or in Ireland and travelling mostly around South America.…In December 2010 I finish my two year contract with BAS on South Georgia and I must return to the "real" world, with lots of people, noise, pollution and the ever advancing tide of commercialisation. I am not looking forward to that….Why am I writing this letter in a bottle? I suppose just curiosity; to see where it goes and what happens. I do not know if the bottle will even survive its first few days and not end up smashed on the harsh and unforgiving coastline….it is a rather wonderful thought that the bottle might bob around an ocean for a length of time on a lonely journey to deliver a message when it is ready. I wish it well on its voyage, I would like to go with it."
On the map Luke had drawn an arrow indicating the direction he expected the bottle to go; a trajectory that would have lead him to expect it to be washed up on a west African shore perhaps. Having read the message Si sent a letter to the Irish address Luke had given.
Luke has perhaps found a way to avoid the "people, noise and pollution" he was not looking forward to three years ago. He now regularly works on cruise ships visiting some of the most remote locations in the world.

On receiving Si's letter, Luke said he was, "delighted to hear that my message in a bottle was found washed up and intact. The bottle(s) were deployed not as a Robinson Crusoe cry for rescue, but as much for curiosity as for anything else. To see where it might turn up should it withstand the stormy Southern Ocean - quite honestly I didn't even begin to speculate where that might be. It is somewhat of an idealistic notion, to pit the insignificance of a lonely bottle against all the odds of the mighty ocean and to see it triumph. The never knowing if it's still out there, still bobbing away avoiding the potentially fatal encounter with land, how close it has come to making a landfall only to be swept past the refuge. Perhaps it can teach us a lesson. Even the smallest act can triumph."