IMF sides with Obama calls on Republicans to bury political differences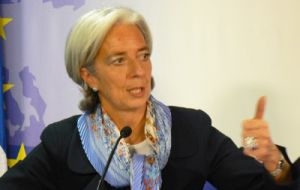 The International Monetary Fund urged US policymakers to support major reforms at the global lender and bury political differences over the budget to ease one source of risk to the economy and markets.
The IMF agreed to reform its governance structure in 2010 to give greater influence to emerging economies and make China the third-largest member. But the reform of voting rights, known as quotas, cannot proceed without approval from the US Congress.
IMF Managing Director Christine Lagarde said the reforms will give the global financial institution more money to prevent and resolve crises. "These 'quota' reforms need the support of all our member countries, including the United States," Lagarde told the US Chamber of Commerce.
It was the first time an IMF managing director had spoken to the chamber in two decades, perhaps a sign the IMF wants to better make its case to US business leaders.
The United States is the Fund's largest member and holds the only controlling share of IMF votes, meaning no major changes can happen without its approval. Under the reforms, US voting power would decrease slightly but it would still maintain veto power over decisions.
Formal agreement on the quota reform could be included in budget bills expected in the next month, but is likely to be overshadowed by heated debate over US public finances.
Lagarde called on the United States to quickly resolve the political uncertainty over the budget and the debt ceiling. US lawmakers continue to wrangle over raising the legal limit on the nation's borrowing.
Congressional Republicans have called for further spending cuts and a delay in the president's healthcare program before they agree to raise the limit. "It is essential to resolve this, and the earlier the better, for confidence, for markets and for the real economy," Lagarde said.
She said global growth remains "subdued," several weeks before the IMF releases its official forecasts for the global economy ahead of its annual meetings in October.
The Federal Reserve cited uncertainty about the fiscal debate as one reason not to scale back its support for the US economy on Wednesday, a decision which surprised many investors.
After her speech, Lagarde said the Fed's decision to maintain the current pace of asset purchases was in line with IMF recommendations to reduce support for the economy gradually, based on the data, and to communicate it clearly.
Lagarde said the Fund's July forecasts for the US economy predict the Fed should begin reducing its bond-buying program at the end of 2013.
"The future would tell when the chairman (of the Federal Reserve) and his board deem that it's appropriate, but for the moment, it's clearly the approach that we've always recommended," Lagarde said of the decision not to taper yet.