Looking back on time: when Garcia Margallo championed for Melilla and Ceuta as tax havens
Friday, September 20th 2013 - 19:38 UTC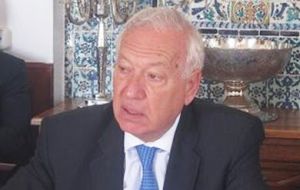 Spanish Foreign Minister José Manuel García-Margallo has long been a vocal critic of Gibraltar's competitive tax framework, denouncing the Rock as "a tax haven" despite its recognised compliance with international standards set by the EU and the OECD, among others.
But an article unearthed from the archive of the right-leaning Madrid newspaper ABC suggests he was not always of that mind. In 1978, the then MP for Melilla championed special policies and economic status for Melilla and Ceuta, Spain's North African enclaves.
In an interview with ABC newspaper published on August 1 of that year, García-Margallo spoke of creating "fiscal privileges" and "intermediary companies" to lure national and foreign businesses to the enclaves.
"One solution would be to create a 'tax haven' that attracted capital," he told the right-leaning newspaper.
For the record, Gibraltar long ago shrugged off the 'tax haven' label in the eyes of most governments around the globe, Spain excluded naturally.
The Rock complies with all EU directives on financial services and transparency, has signed tax information agreements with 26 countries and is listed on the OECD's white list. (GC).