Brazil' Bovespa implementing changes to update its benchmark Ibovespa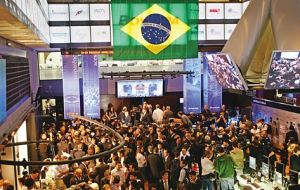 Brazil's main stock exchange Bovespa is implementing changes to its benchmark Ibovespa stock index, the first since 1968, in an effort to correct recent distortions and better reflect the performance of local shares.
Under the new plan, stocks will be weighted according a formula that takes into account the market capitalization of free-floating shares, as well as the liquidity of those shares.
Liquidity will be based on a so-called "negotiability index," one-third of which is based on the total number of trades in the shares and two-thirds of which is based on the total value of shares traded.
The Ibovespa, a gross total return index, has grouped the most-traded stocks in the São Paulo Stock Exchange with the same formula since its inception in 1968.
Changes to the index will be phased in over two portfolio re-balancing, beginning next year, the exchange operator said. For the portfolio lasting between January and late April, the index weightings will be calculated using the average of the old method and the new method. The new method will be fully implemented in the portfolio starting May, 2014.
Many investors recently began calling for modifications to the index's formula, pointing to the comparatively heavy weighting of commodities exporters, which have underperformed stocks linked to domestic consumption over the past two years.
The calls for change grew much louder in recent months on concerns over the weighting of oil producer OGX Petroleo e Gas Participacoes SA, controlled by tycoon Eike Batista.
OGX shares have tumbled 91% this year alone. But because the Ibovespa's weighting is based primarily on the total number of trades in a stock, OGX's share of the index rose in the most recent rebalancing, meaning even small changes in the stock's price contribute to wide swings the broader index. The Ibovespa is currently down over 12% this year.
Other changes to the index include the following:
* Stocks that trade at an average price of less than one Real over the previous rebalancing period, such as OGX is likely to do at the close of the current cycle, would be excluded from the index.
* Stocks forming part of the index would need to account for more than 85% of trades in the equities cash market, up from 80% currently.
• Stocks would need to have been traded in 95% of trading sessions over the period of three index re-balancing.
"With the changes, BM&F Bovespa aligns the methodology of its principal index with that which is practiced in other countries and adapts the Ibovespa to the current scenario in Brazilian capital markets," the exchange operator said in an e-mailed statement.