Maduro skips UN speech alleging 'two highly serious provocations' against his life
Thursday, September 26th 2013 - 05:32 UTC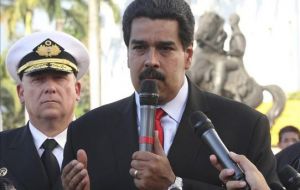 Venezuelan President Nicolas Maduro said Wednesday he had scrapped his plan to take part in the UN General Assembly in New York to "protect my life" after purported threats on it. Just back from a visit to China Maduro said that on a layover in Vancouver he received intelligence on what he said were "two highly serious provocations", which prompted him to scrap his UN trip.
"When I got into Vancouver I evaluated the intelligence which we received from several sources. I decided then and there to continue back to Caracas and drop the New York trip to protect a key goal: safeguarding my physical integrity, protecting my life," Maduro told local media.
One of the alleged provocations "had been planned against my physical integrity" and another could have involved violence in New York charged.
The Venezuelan president also announced he was planning legal action against Airbus, after his presidential plane developed a fault.
"A serious fault appeared in one of the wings of the plane after five months at Airbus in France - my God!" said President Maduro. "With the help of an international law firm, we're preparing legal actions against Airbus of France."
Venezuela is the region's closest ally of Cuba which regularly has charged local conservatives were plotting against their leaders, leftist policies and governments.
Maduro earlier this month claimed the White House is plotting the "collapse" of his government next month by sabotaging food, electricity and fuel supplies. The president's predecessor, the late Hugo Chavez, also made regular claims about several alleged US plots to kill him.
In related news the Maduro government has announced measures to facilitate the import of essential goods, which have been in short supply.
Vice-President Jorge Arreaza said the government was cutting red tape for companies willing to import food, toiletries and mechanical parts. Last week, the government took over a toilet paper factory. The government accuses unscrupulous traders of trying to undermine its left-wing policies.
Current import licences have been automatically extended until the end of the year.
Arreaza also announced that the government was giving importers easier access to foreign currency. He said the measures had been approved by President Maduro, who returned from an official visit to China on Wednesday morning.
Maduro had been expected to fly from Beijing directly to New York, where he was due to speak at the United Nations General Assembly.