Pacific Alliance makes its official presentation in New York with three presidents
Thursday, September 26th 2013 - 21:45 UTC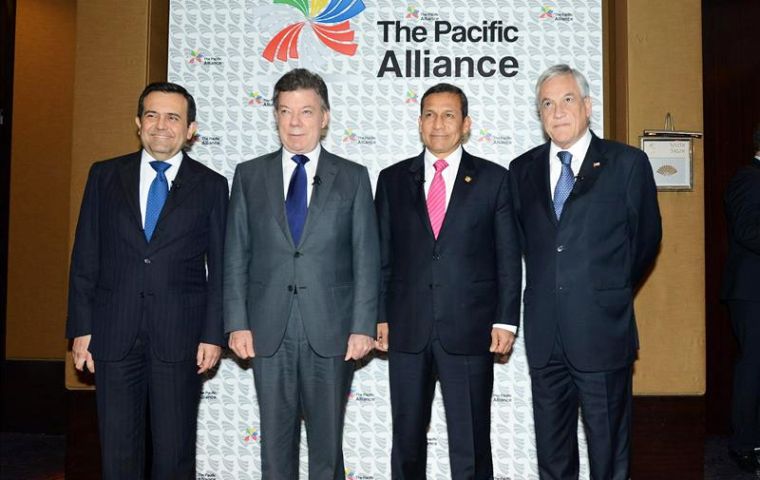 The Pacific Alliance made its official presentation in New York before 200 business people and investors, mostly from the US, with four top anchor men: the presidents of Chile, Peru and Colombia and Mexico's foreign trade minister since head of state Enrique Peña Nieto had to remain in the country because of the catastrophic floods.
The Alliance is an economic and trade integration project born two years ago involving four of the most dynamic economies of Latam and at the meeting, leaders pointed out advances so far and the business opportunities of this new trade block inviting the attendees to invest in Latam.
"We hope US business people will take a look at the south to see what our nations represent and the opportunities that we are offering", said Colombian president Juan Manuel Santos, currently chair of the Pacific Alliance.
"In his speech before the UN, President Obama did not mention in any passage Latinamerican countries, and we believe the interest of the US should be to the south of the Rio Grande River", added Santos.
The four leaders underlined the success of the political, economic and cooperation articulation which has emerged from the recently formed alliance.
Since its birth in 2011 the block has been considered a geopolitical counterweight for Mercosur, but Chilean President Sebastian Piñera tried to dissipate any suspicions to that effect or competition.
"We have a right as countries to choose our paths", said Piñera adding that the alliance is an open organization that above all supports dialogue among members.
The purpose of its members is to create a free trade zone that favours the free flow of people, capital and goods, similar to the European Union. In that line during the last summit in Cali it was agreed to liberalize 90% of domestic trade among its members and there was a timetable established for the remaining 10%.
To the benefits of these measures must be added the free trade agreements each of its members has signed respectively with other countries, without disregarding a potential integration in the Trans Pacific Partnership, an initiative that if materialized will turn into the largest free trade zone of the world.
Currently the Pacific Alliance population adds up to 215 million, with GDP of 1.5 trillion dollars, almost 35% of the whole of Latam and is responsible for 55% of exports. Its four members economies expanded above the regional hemispheric average in 2012 (2%). Last year Peru expanded 6.2%; Chile, 5.6%; Colombia, 4% and Mexico, 3.9%.
However the Alliance leaders did not hide the problems to reach a full integration or the barriers ahead, which were described by Mexico's representative as 'arduous' and according to Peruvian president Ollanta Humala one of the great pending issues is infrastructure integration precisely to facilitate a more competitive trade.