EC concludes fact-finding mission in Gibraltar/Spain border; tax fraud was not in agenda
Friday, September 27th 2013 - 22:12 UTC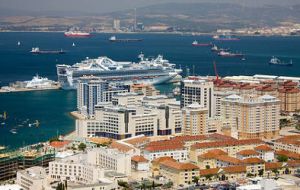 European Commission said that it had received no "official, specific" complaint alleging tax fraud in Gibraltar, despite Spain's repeated accusations against the Rock. Commission spokesman Olivier Bailly made the clear statement as he reminded reporters that allegations of tax evasion had not formed part of Wednesday's fact-finding mission to the border.
"Tax fraud was not part of the mission's mandate," he said at the daily midday briefing. "We have had no official, specific complaints on this matter."
The statement is in sharp contrast Spanish allegations that Gibraltar is a centre for dubious financial practices, a claim strongly denied here. Mr Bailly said the only discussion on tax evasion was at Council level and related to EU-wide measures.
His statement was in response to a reporter's question and came just days after Sir Graham Watson, Gibraltar's Liberal Democrat MEP, highlighted the Rock's solid reputation as a well-regulated finance centre.
In a question filed in the European Parliament, Sir Graham asked the European Commission whether it had received any credible complaint about Gibraltar's finance regulations. He also asked the Commission to confirm that Gibraltar complied with all relevant EU legislation in financial services.
Sir Graham's questions come against the backdrop of a concerted campaign by Spain to label Gibraltar as a tax haven with an opaque regulatory system that facilitates money laundering.
Spain also complains that Gibraltar does not share tax information. But the Gibraltar Government robustly denies these allegations and has repeatedly highlighted that Gibraltar complies with the highest regulatory standards in this field. It adds that Gibraltar has signed tax information exchange agreements with 26 countries but that Spain refuses to do so. Not only that, Gibraltar has transposed all applicable EU directives.
In his questions to the European Parliament, Sir Graham cited a 2007 report by the International Monetary Fund that gave a stamp of approval to Gibraltar's regulatory efforts.
"The Gibraltar authorities are concerned with protecting the reputation and integrity of Gibraltar as a financial centre, and are cognizant of the importance of adopting and applying international regulatory standards and best supervisory practices," the IMF report said.
"Gibraltar has a good reputation internationally for cooperation and information sharing."
Sir Graham asked: "Can the Commission state whether it has ever received a well-founded complaint regarding an alleged failure by the Government of Gibraltar to provide or exchange information or failure to collaborate generally on tax, financial services or money laundering matters?"
In the midday briefing, Mr Bailly said the technical mission had been a success and thanked the authorities on both sides of the border for their cooperation.
Looking ahead, he repeated the Commission's position that there was no deadline for the mission's conclusions.
"The timetable cannot be confirmed and neither can we confirm the form for these conclusions," he said. Once they are finished, "the Commission will look at the conclusions and then decide what to do."