Malvinas/Falklands joint claims: Spain denies Timerman, calls UK a "friend"
Friday, September 27th 2013 - 07:30 UTC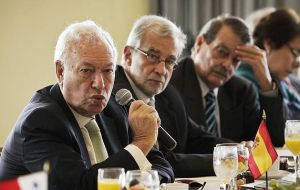 The Spanish government denied having agreed with Argentina on joint measures to press Great Britain for Malvinas Islands and Gibraltar sovereignty claims, as had been reported earlier on Thursday by Argentina's foreign minister Hector Timerman, and described the UK as a friend country.
According to Spain's El Pais, the Moncloa palace effectively confirmed the meeting in New York of Spanish Foreign minister Jose Manuel Garcia-Margallo with Argentina's Timerman but denies having agreed to join efforts in their respective claims.
The Spanish government pointed out that Timerman's version of the meeting is not shared and underlined that it considers the United Kingdom a "friend country".
Garcia-Margallo has promised a press conference on Friday in New York to inform its perspective on the meeting and on the issues addressed,
The release following the meeting from the Argentine foreign ministry said that on the sidelines of the US General Assembly the foreign ministers of Argentina and Spain met to go through all the issues of the bilateral agenda.
"In particular they talked about the existing coincidences between the sovereignty disputes situations on the issues of Malvinas Islands and Gibraltar. Likewise they agreed on joint measures calling on Great Britain to comply with the mandate from the United Nations to dialogue"
Finally they agreed to bring together their work teams to address issues of the common agenda referred to foreign policy and cooperation and hold a work meeting as soon as possible.
Apparently Spain's main opposition party, Socialists, (PSOE) complained because according to the head of EC affairs Juan Moscoso there is a commitment to consult the opposition before any decision on Gibraltar affairs.
"The attempt to apply the decolonization agreements together with Argentina could mean an adventure and prove to be a false alliance", said Moscoso.
In New York Garcia-Margallo attended the Spanish president Mariano Rajoy conference at the Council on Foreign Relations but refused to make any comments on the Timerman incident arguing the 'big protagonist today is President Rajoy" but promised a press conference on Friday.
On Wednesday evening Rajoy addressed the UN General Assembly and called the Gibraltar situation "a colonial anachronism" inconvenient for the adjacent region and criticized the UK for denying to dialogue on the Rock's sovereignty.
"It is the only (colonial) pending situation in Europe still affecting our territorial integrity", said Rajoy.