"Uruguay does not need money, we need talent", Mujica tells Vice-president Biden
Friday, September 27th 2013 - 12:42 UTC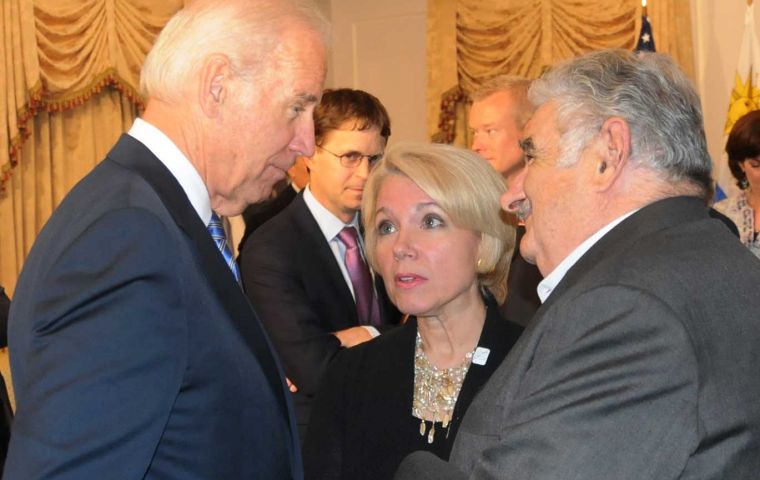 Uruguay "does not need money; we need talent, students that complete their formation in the US and return to Uruguay to share and invest their knowledge" president Jose Mujica told US Vice-president Jose Biden during an hour long meeting on the sidelines of the UN General Assembly in New York.
At the Wednesday meeting in the Waldorf Astoria in Manhattan the two leaders addressed ways of establishing closer trade links and bilateral cooperation, as well as the need to avoid actions which increase friction and mistrust in the region. They also talked about history and international affairs.
Biden was supported by Under Secretary of State for Hemispheric Affairs, Roberta Jacobson and two aides while the Uruguayan side included foreign minister Luis Almagro, Uruguayan ambassador in Washington Carlos Pitta and Deputy cabinet chief Diego Canepa
Vice-president Biden said he was impressed and respectful of President Mujica and "he didn't say it in a complementary way to be polite, and mentioned that President Barack Obama had also been very impressed by Mujica when they first met at the Americas summit in Colombia", said Canepa after the meeting.
"They also talked about bilateral issues which Mujica plans to bring up when he meets Obama at the White House sometime before Christmas and the need to generate trust for which extended espionage is no help", added Canepa.
But Mujica was particularly interested in strengthening university exchanges between Uruguay and the US and sending a greater number of Uruguayan students to complete their graduate work in US universities.
"We need talent, we need to improve our education system and have better professionals, scientists, researchers, on them rests the development of the country and future generations" insisted Mujica.