Argentine flagged vessels catch of Illex squid totaled 186.969 tons, says Inidep
Monday, September 30th 2013 - 16:52 UTC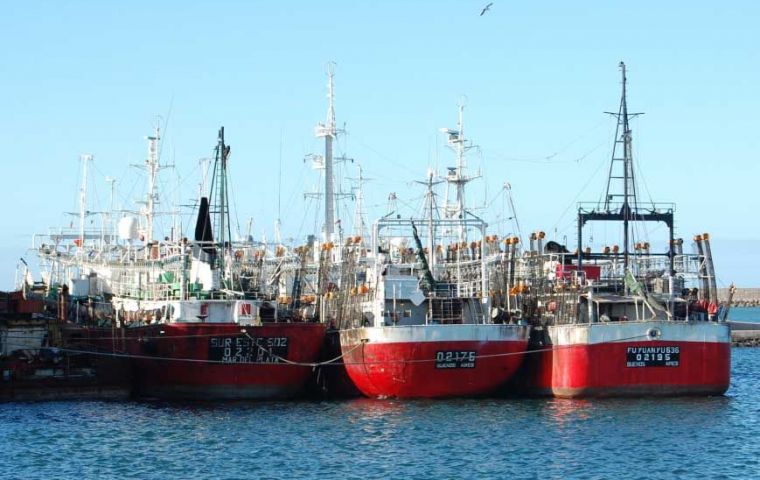 A report from Argentina's INIDEP (fisheries research institute) presented to the Fisheries Federal Council last week indicates that during 2013 Illex squid catches totalled 434.561 tons of which 156.163 were landed by 66 Argentine jiggers. The report identified as Number 20, refers to the first 35 weeks of this year, (1 to 35) and includes Argentine waters and outside Argentina's Exclusive Economic Zone, ZEEA.
However if catches by Argentine trawlers (27.806 tons) are also included the volume jumps to 186.969 tons, with an average daily catch of 22.8 tons in the period extending from January first to 31 August. In the adjacent ZEEA South of 44o degree, Argentine catches totalled approximately 68.172 tons and foreign vessels operation in the 'Malvinas' area, an estimate of 147.339 tons.
"It is necessary to underline the high degree of uncertainty associated to the estimates of catches by foreign fleets that operate inside and outside Argentina's EEZ", point out the researchers in the report.
To the south of 44 degrees S Illex catches totalled 365.041 tons of which 59% by foreign fleets. According to Inidep estimates, 39% of that volume was achieved by week 23. To the north of 44degrees South, Argentine catches totalled 37.439 tons of which 27.901 by jiggers. Uruguay declared to having landed 142.4 tons of squid from the Argentina-Uruguay Common Fishing zone, while the foreign fleet outside the Argentine EEZ took 32.081tons.
Finally considering the different fleets and areas the total catch for the 2013 Illex season is estimated by Inidep at 434.561 tons.

The report also points out that this season there were no scientific research cruises, which normally helps with the biomass estimates and this was so because the 'BIP Dr. Holmberg' was being prepared for a South Georgia campaign.
Additional data indicates that each jigger operated 106 days with an average daily match of 22.72 tons. To the south the figures were 83 days and 24.1 tons per day while to the north fishing days were 26 with an average catch per day per vessel of 18.58 tons. Among the jiggers with the best performance are Estandarte; Esperanza 909; Orion 5; Estrella 5 and Estrella 6. As to trawlers, 153 vessels were involved and 66% of operations were to the south. In May and June they had a significant participation to the north.
The report on describing the foreign fleet points out that catches in the high seas started at the end of November 2012, and by week 1 of January, 115 vessels were operating outside Argentina's EEZ. In February the number jumped to 200 of which 15 to 20 began operating in the area around Malvinas Islands, while 59 Argentine flagged jiggers started operations in the intermediate austral shelf.
In March and April was when the major fishing effort of foreign fleets was registered with 316 vessels, operating mainly on the austral shelf to the north and northeast of Malvinas Islands. In May the number of foreign vessels dropped significantly in that area, with 64 Argentine flagged jiggers and 80 foreign operating. Between 40 and 50 foreign jiggers left towards north and by June only 26 foreign vessels were in Malvinas and "on the extreme Buenos Aires shelf" 10 to 40 vessels. As of July only Argentine flagged jiggers were operating according to the Inidep report.