Chilean military officers will be transferred to less luxurious jail despite suicide of an inmate
Monday, September 30th 2013 - 19:11 UTC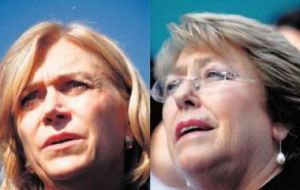 Former president and opposition candidate Michelle Bachelet, as well as Evelyn Matthei, candidate of the conservative ruling coalition for the coming 17 November elections coincided in describing the death of retired general Odlanier Mena Salinas who killed himself as 'tragic'.
The former spy chief sentenced for violation of human rights and belonging to a group of military that is to be transferred from their current prison to another less luxurious in the outskirts of the capital following a decision from President Sebastian Piñera, shot himself in the head on Saturday. The General (86) committed suicide at his home. Since 2011 he had the benefit of spending time at his home on weekends.
The former head of the National Centre of Information was condemned at the end of 2008 to six years in jail for his responsibility in the death of three opponents to the 1973 dictatorship of General Augusto Pinochet.
"Obviously it is a very tragic decision", said Michelle Bachelet when asked during a political rally about the death of General Mena.
The former president (2006/2010) who is well ahead in public opinion polls for November presidential election however apologized of further comments telling a reporter: "I don't have more information than that which you are telling me".
Nevertheless previously Bachelet had supported President Piñera's decision to close the Cordillera Jail, where until now the military officers condemned for violation of human rights had been incarcerated, and thus had to be removed to a new compound.
Evelyn Matthei opposition candidate agreed in describing the death of General Odaliner Mena as 'regrettable' and a most 'tragic incident'.
"It's tragic" underlined Matthei who added that the decision of President Piñera to close the Cordillera Jail was "difficult, very difficult, but the correct one".
Evelyn Matthei who is also the daughter of an Air Force general member of the Pinochet Junta, said that if she had been in Piñera's shoes she would have adopted "an identical decision" because there are basic principles involved such as "equality before the law".
Justice Minister Patricia Perez regretted the death of General Mena but also underlined that it will not alter the decision of closing down the Cordillera Jail and transferring all the inmates to Punta Peuco, another prison for human rights violators but 35 kilometres north of Santiago.