Argentine vote intention polls confirm challenger Massa chances for this month's mid-term election
Tuesday, October 1st 2013 - 04:08 UTC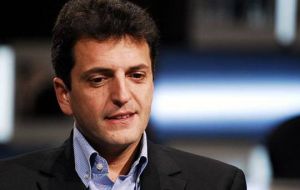 With less than a month for Argentina's mid term elections the opposition to President Cristina Fernandez in the province of Buenos Aires, the largest and crucial electoral circuit clearly leads in public opinion polls and continues to advance over the primary results of August.
"It looks as the beginning of the end of a cycle" said Jorge Arias, and analyst from pollster Polilat. He added that the Argentine electorate seems to have deposited in Sergio Massa, head of the Renewal Movement and former cabinet chief "the trust to lead this growing public opinion".
Massa the mayor of the city of Tigre (over a million inhabitants) in metropolitan Buenos Aires has thirteen points of advantage over Martin Insurralde the government candidate and strongly supported by President Cristina Fernandez
According to pollster Raul Aragon & Associates, released by Infobae, the Renewal Front has a vote intention of 44.9% ahead of 27 October, while Insaurralde stands with 31.8%. If these percentages are confirmed at the end of the month, Massa will have trebled the five-point difference of the 11 August primary, when the contender managed 35.05% of ballots and the Kirchnerite candidate 29.65%.
The challenger has climbed in public opinion support apparently because of the poor showing of another opposition candidate Francisco de Narváez, who opinion polls have him with 4% of vote intention while in August he managed 10.5%,
Behind Massa and Insaurralde figures Margarita Stolbizer from the Progressive Front with 13.8% of vote intention.
However it must be pointed out that the Victory Front of President Cristina Fernandez managed to catch 26.31% of the vote in the primaries, reaffirming its condition of the main political force, but quite distant from the overwhelming 54% in the presidential election of 2011, besides losing in the main provinces: Buenos Aires, Cordoba, Santa Fe and Buenos Aires City.
According to Polilat analyst Arias with the emergence of Massa and other opposition figures such as Governor Juan Manuel de la Sota in Cordoba or Socialist Hermes Binner in Santa Fe: "it looks as if the possibility of constructing a new strong leadership is emerging and with good chances for the presidential election in 2015", when President Cristina Fernandez has to step down.
The government of President Cristina Fernandez following the August primary losses introduced new measures to combat crime and insecurity, cut fiscal pressure on the middle class but so far "they seem to be insufficient to change the tide".
"The government has tried to synchronize public opinion demands and has tried to gain back public opinion, but the problem is that the measures even when celebrated are seen as implemented with an electoral objective", said Virginia Garcia Bordeaux from the University of Belgrano.
One of the great changes of the government's current campaign refers to Cristina Fernandez, the great protagonist of the primaries but now absent from posters with incumbent Insaurralde appearing on his own.