Rousseff reminds Cartes that Paraguay belongs to Mercosur and is strategic for Brazil
Wednesday, October 2nd 2013 - 08:22 UTC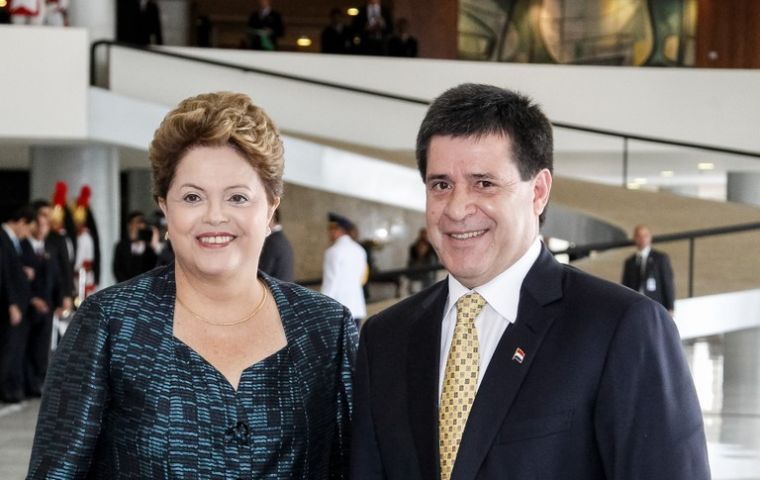 Brazilian president Dilma Rousseff received her peer from Paraguay, Horacio Cartes with full head of state honours but at the same time reminded him that Paraguay is a full member of Mercosur and "bilateral relations are in the context of multilateral relations with all countries of the hemisphere".
Cartes one-day visit to Brasilia started with a bilateral meeting at the Planalto Palace, seat of the Executive and with other Brazilian officials and later a joint declaration.
However President Rousseff was rather insistent that the presence of Paraguay in Mercosur "has a very important significance at this moment" and underlined that landlocked Paraguay "will always be a strategic country" for Brazil.
Rousseff said she strongly favoured Latinamerican integration and "with the presence of President Cartes we can ensure the strengthening of regional integration. An integrated Mercosur from Patagonia to the Caribbean and with the incorporation of Venezuela makes our region a multilateral belt, far more powerful, far more influential"
But Cartes did not reply to the wishes of his peer, and merely thanked the request for the return of Paraguay to Mercosur. However he did emphasize Rousseff's invitation for a confidence and solidarity relation, and at the same time her commitment to help battle poverty providing all the experience and knowledge of the programs successfully implemented by Brazil.
"Not only that, I remember requesting help in something which is our banner, our cause, battling poverty, and she replied immediately telling me that everything that Brazil had done in that field was available to us", indicated Cartes.
Speaking with Paraguayan reporters at the end of the day visit in Brasilia, Cartes reiterated that Paraguay is willing to return to Mercosur, but "the rule of the law must prevail" in direct reference to Venezuela's 'irregular' incorporation to the block.
"The foreign ministers from Argentina and Brazil must be aware that the return to Mercosur must not be seen as a political deal but effectively respecting the rule of the law" said Cartes adding "this is what we've always asked, that's what we are working on, and more than time it's an issue of finding the right procedure".
Cartes confessed that is how he felt last month after the summit in Suriname when Venezuelan president Nicolas Maduro apologized to the Paraguayan people
"I think that lifted much of the pressure on the controversy and now we are working in the right procedure", pointed out Cartes who nevertheless indicated that Paraguay and Venezuela are not currently involved in any exchange but hopefully "once the rule of the law issue is completed, we can move forward", and hopefully this can be reached before the Mercosur summit next December in Venezuela, since this country currently holds the rotating chair.
But Dilma also mentioned in her speech that the Mercosur Structural Convergence Fund, mostly financed by Brazil, has been effective since 2010, and Paraguay benefited with a 310 million dollars loan to finance a high voltage transmission line from the hydroelectric dam of Itaipu to the capital Asuncion, which suffered recurrent brown and black outs.
"Paraguay is not asking for alms or favours, it wants to sit at the big table" concluded Cartes after thanking Brazil's support for infrastructure projects.
Since taking office 15 August has visited Cristina Fernandez in Argentina, Sebastian Piñera in Chile and now Dilma in Brazil. His next visit is to Uruguay with President Jose Mujica, and in all cases underlining the 'bilateral relation' with the different countries because Asunción believes that Mercosur decision in June 2012 to suspend Paraguay and incorporate Venezuela as full member of Mercosur was done "ignoring the rule of the law, international law, Mercosur charter and the Paraguayan people dignity".