Falklands' 'FOGL and Desire Combination' prepare to drill five wells next year
Thursday, October 3rd 2013 - 19:36 UTC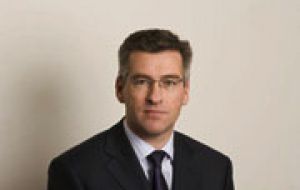 Falkland Oil & Gas is to buy a smaller Falklands-based firm to create a "combination" company with licences to search for oil both to the north and south of the Falkland Islands in the South Atlantic. FOGL said on Thursday it had agreed to buy Desire Petroleum offering 0.6 FOGL "consideration" shares for each Desire share, in a deal valuing Desire at 61 million pounds (99 million dollars).
Desire had since earlier this year been seeking investment to be able to finance further exploration to the north of the Falklands, nearby to the Sea Lion oil field - the only one to be discovered so far in the Falklands.
FOGL, whose licences are in the south of the Falklands where oil is yet to be found, will through its acquisition of Desire now have a minority stake in the Sea Lion project.
The new combined group said it would have funds for its share of a drilling program to include five wells across the Falklands beginning in the last quarter of next year.
FOGL also said it had signed a new partnership deal with Premier Oil and Rockhopper for two of Desire's exploration licences, exchanging a share in two areas for funding for drilling.
Shares in Desire soared 30% to 16 pence, nearing the 17.76 pence level at which FOGL offer values them. FOGL shares were down 7%, giving the company a market capitalisation of around 85 million pounds.
"This combination is a compelling opportunity to consolidate the portfolios of FOGL and Desire, diversifying the risk profile for both companies' shareholders and enabling the combined group to move forward with an active, long-term program for growth in the Falkland Islands," FOGL Chief executive Tim Bushell said.
Bushell will be chief executive of the new group in which FOGL shareholders will own 60%. The acquisition will leave FOGL with 170 million dollars in cash, enough to fund the s five-well exploration plans.
Falkland Islands drilling operators, such as Premier (Rockhopper) and Noble Energy Inc., (FOGL) plan to use one rig to share mobilization costs. Premier and Rockhopper are working on the Falkland Islands largest projects, the Sea Lion development, planning to invest about 5 billion dollars to pump first oil in 2018.
Noble Energy and Edison SpA will fund two wells to the south and east of the Falklands at a cost of about 100 million dollars a well. Premier and Rockhopper will fund two more wells targeting the Isobel/Elaine and the Jayne East prospect to the north of the archipelago at a cost of about 50 million a well, Bushell said.
In addition, Falkland Oil will contribute about 20 million to a fifth well targeting Zebedee, also in partnership with Premier and Rockhopper, said CEO Bushell. Three wells will be drilled to the south of the Sea Lion field. The difference in the well cost is "mainly because of the water depth," Bushell said. The "south has much deeper water so the wells are more expensive."
Following implementation of the agreement, the management team of the Combined Group will comprise Tim Bushell as Chief Executive Officer and Colin More as Exploration Director. Richard Liddell, Non-Executive Chairman of FOGL, will continue as Non-Executive Chairman of the Combined Group. In addition to Mr. Liddell, the Board of the Combined Group will comprise Timothy Jones (Non-Executive Director of FOGL), David Hudd (Non-Executive Director of FOGL), Tim Bushell and Colin More, as well as Stephen Phipps (Desire's current Chairman), Ian Duncan (Desire's current CEO) and Robert Lyons (a current Non-Executive Director of Desire) who will all join the Board of the Combined Group as Non-Executive Directors.
CEO Bushell said "the transaction provides FOGL with access to Desire's interests in the North Falkland Basin (including the Sea Lion area) which we believe are highly complementary to our existing exploration portfolio in the South. FOGL is in a strong financial position and these transactions will enhance the company's opportunity set and offer new and exciting potential opportunities to deploy capital and create value for both companies' shareholders."
Desire Chairman Stephen Phipps commenting on the combination agreement said that for a number of months the company had been seeking additional investment into its North Falkland Basin licences.
"With the combination with FOGL not only do Desire shareholders retain material interests in Desire's highly prospective exploration acreage, but we also benefit from the farm-out with Premier and Rockhopper, exposure to FOGL upcoming program in the South Falkland Basin, a strong balance sheet and expert partners. We are entering an extremely exciting period in the Falklands with shareholders in the combined group now having fully funded, material exposure to five wells across three basins, testing three different play types" underlined Phipps.