Moody's lowers Brazil's credit rating to stable from positive: rising debt and weak growth
Thursday, October 3rd 2013 - 19:17 UTC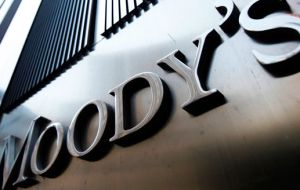 Brazil's currency Real declined from its highest level in two weeks after Moody's Investors Service cited rising debt and weak growth in lowering its outlook on the country's credit rating to stable from positive.
Brazil's government debt will probably stay at about 60% of GDP, higher than the 45% median for its peers, Moody's said in reducing the outlook on the nation's Baa2 rating, the second-lowest investment grade. The central bank trimmed its 2013 economic growth outlook to 2.5% from 2.7% this week.
The economy expanded less than forecast by analysts in five of the past six quarters. Industrial output unexpectedly stalled in August as factories reduced output of consumer goods. Annual inflation has twice broken the 6.5% upper limit of the central bank's target range this year.
Moody's also cited the recurrent lending by the Treasury to Brazil's public banks as well as the "deterioration in reporting quality of the government accounts" for its decision. The credit rating is the same level as Peru, Italy and Kazakhstan, and one step below that of South Africa, Mexico, Thailand and Russia.
"Even though there are signs that the Brazilian economy may be starting to recover, Moody's view is that, if and when the upturn materializes, it is unlikely that it will be strong enough to restore a positive trend in Brazil credit metrics," Moody's said in a statement.
In June, Standard & Poor's reduced its outlook on Brazil's rating from stable to negative, citing sluggish growth and expansionary fiscal policy. S&P rates Brazil BBB, the second-lowest investment grade.
Brazil's efforts to lure private investment for infrastructure projects and a pledge to reduce lending by state banks help support a stable outlook on the rating, said Mauro Leos, a sovereign analyst at Moody's.
"The first step is to restore growth to the trend of above 3%", Leos said. "We're not sure how successful it is going to be" in attracting foreign investors to infrastructure.
The Real has rallied 11% since August 22, when the central bank announced a 60 billion dollars program to bolster the currency and curb inflation. But Brazil has also raised the target lending rate by 1.75 percentage points to 9% from a record low 7.25% in April. The central bank is next scheduled to meet Oct. 8-9.
Policy makers will work to bring inflation as close to target as possible next year, central bank President Alexandre Tombini anticipated in an interview in London on Wednesday.