Brazilian push to attract more tourists taking advantage of 2014 World Cup
Monday, October 7th 2013 - 14:46 UTC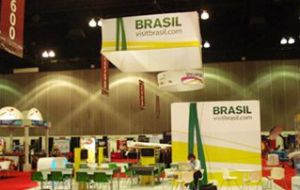 Brazilian tourism officials say that the country has stepped up efforts to lure more foreign tourists as Brazil gears up to host 2014 World Cup. Tourist board Embratur said September had seen a major publicity push worldwide, including promotions at the just-ended Japan Association of Travel Agents (JATA) showcase in Tokyo, as well as across North America and Russia.
The push for Russian business comes as the World Tourism authority placed Russian visitors as fifth on the list of global tourist spenders.
Japan is a key market not just because it will compete at the World Cup but because around 1.8 million Brazilians are of Japanese descent and Japan has its own Brazilian Diaspora.
Brazil is keen to make the most of its time in the global spotlight -- in 2016 Rio will host South America's first Olympics while the World Cup sees the event return to the land of samba for the first time since 1950.
With Germany providing the most visitors from Europe -- around a five percent share - Embratur said it has also held some 180 road-shows at trade exhibitions there with a particular focus on eco-and adventure tourism.
Even so it added that some three fifths of the 5.7 million tourists who visited in 2012 came for "sun, sea and sand."
Argentines account for the largest share in total at around 30% with travelers from the United States second with an 11% share based on 2012 figures.
The Brazilian Luxury Travel Association has focused on bolstering a US share largely comprising high-spending clients. Away from the luxury sector, 109 new hotels, resorts and hostels are under construction across the 12 World Cup host cities, according to the tourism ministry.
Brazil hopes to lift tourist numbers to ten million by 2020, taking the share of GDP the sector accounts for directly and indirectly from a current 8.6% past 10%. The sector contributed almost 80 billion dollars to GDP in 2011, according to official figures, as well as almost three million jobs.
Even so, Brazil is racing against the clock to modernize its ageing airports and general transport as well as tourist accommodation infrastructure as the World Cup looms closer.