Falkland Islands sent their well-wishes to President Cristina Fernandez
Tuesday, October 8th 2013 - 06:22 UTC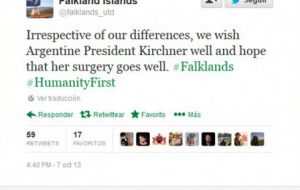 The Falkland Islands joined the thousands of well-wishers supporting Argentine president Cristina Fernandez who is facing a complicated medical condition and on Tuesday will undergo surgery to extract a blood clot in the cranium.
Via twitter the Falklands said that 'irrespective of our differences, we wish Argentine President Cristina Kirchner well and hope that her surgery goes well; Falklands & Humanity First"
This way the Falkland Islands joins the many that have twitted to the hashbag: *Fuerza Cristina and the presidents of the region who have sent support messages to the Argentine leader.
Likewise the Secretary General of the Organization of American States (OAS), José Miguel Insulza, sent a letter to the Argentine president wishing her a speedy recovery from the surgery she will be undergo tomorrow.
The head of the hemispheric Organization said he joined the "millions of men and women in the Hemisphere and the world who express their solidarity with you today." "I am confident that the strength of spirit that you show every day in your duties as the leader of your country will help you in this trying time," he added.
The Secretary General said that President Fernández could also count on "the closeness and love of your family, your friends and all Argentines, who stand with you and admire your fortitude in facing this new challenge."