French Total signs to explore for oil to the north of Uruguay
Wednesday, October 9th 2013 - 05:33 UTC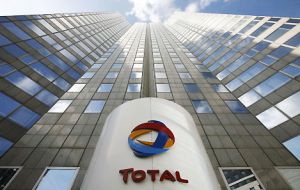 French energy giant Total signed on Tuesday a deal with Uruguay's oil company Ancap to search for oil in the northern counties of Artigas and Salto in an area of 6.200 square kilometres.
Uruguay, a net importer of oil, hopes that a major find will help it gain energy sufficiency, and perhaps even become a future exporter based on recent prospects.
"Currently we have no certainty that we effectively have hydrocarbons in Uruguay, and the more we work the more we increase the possibilities of finding something" said Total Uruguay director Christophe Sassolas following the signing ceremony.
Sassolas said that exploration tasks are scheduled to begin next year and estimated the first results could be feasible in four years time. "It's a long term bet".
In recent years Uruguay which is totally dependent on imported oil has launched several programs to look for hydrocarbons both on shore and off-shore,
In 2009 a consortia made up of Petrobras, YPF and Portugal's Galp were awarded the first exploration licences offshore with the possibility of exploitation in a second stage.
In 2011 other world rated companies joined the project to explore Uruguay's continental shelf: France's Total; British Petroleum, British Gas and Tullow Oil.
Shell jumped in last month after buying Petrobras assets.
On land besides the Total blocks, US Shuepbach Energy, YPF and Ancap are involved in exploration work and drilling. In 2011 some minor traces of oil were discovered to the north of the country but with no commercial volumes, nevertheless interest and hopes have increased several folds.