World Bank/Argentina agree on new Strategic partnership: 3bn dollars in loans
Friday, October 11th 2013 - 07:21 UTC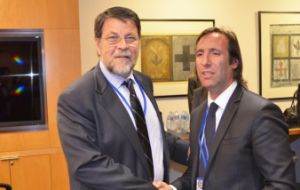 The Argentine government and the World Bank agreed on Thursday in Washington on a new Strategic Partnership involving an estimated 3 billion dollars in the next three years which will concentrate on loans for education, health care and rural development.
The agreement on the sidelines of the World Bank and IMF annual assemblies was signed by Economy minister Hernan Lorenzino and WB Vice-President for Latin America and the Caribbean, Hasan Tuluy and is expected to be considered by the bank's board in December.
The new Strategic Partnership covers the program for the next three years (2014-16) and seeks to advance the Government of Argentina's vision towards expanding public programs and policies that promote social inclusion for the poor.
With lending volumes for investment projects similar to the ones of the previous strategic partnership, the program will prioritize investments to: Improve access to public health and education for the poor, and Infrastructure for rural development.
"Argentina has been insisting in different international forums about the need to gear financing towards social infrastructure and development. This strategic agreement with the World Bank strengthens our commitment to the sectors and regions that are more vulnerable in our country," said Minister Lorenzino.
Many of the programs implemented under the previous strategy, such as Plan Nacer, became flagship models in the sector and are being used in several countries due to achievements in providing quality health coverage for the poor.
"Argentina has made significant achievements in reducing poverty and promoting greater equity in the recent past. In the World Bank we will accompany government priorities and we will continue to support efforts to reduce poverty and create opportunities for all Argentines," said Tuluy.
Currently, Argentina has a diversified program of 31 investment projects totalling 6.2 billion dollars in areas of health, social protection, infrastructure, and environment.
Also present at the meeting were the WB Director for Argentina, Guido Forcieri and the WB representative in Argentina, Penelope Brooke.