St Vincent and Grenadines reiterates relations and political support for Taiwan
Tuesday, October 15th 2013 - 14:28 UTC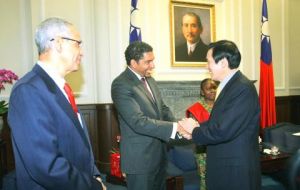 St. Vincent and the Grenadines has reiterated its support for Taiwan to be recognized by various international agencies saying the Asian country has done much to improve the socio-economic well being of people in developing countries.
Foreign Affairs Minister Camilo Gonsalves (*), speaking at a ceremony to mark the 102nd National Day of Taiwan (October 10), said Kingstown remains steadfast in its political support for Taiwan that China regards as a renegade province.
The former St. Vincent and the Grenadines diplomat to the United Nations said that Taiwan should be allowed to participate in all specialized bodies of the global organization.
He said Prime Minister Ralph Gonsalves administration welcomed Taipei's admittance to the World Health Assembly and the International Civil Aviation Organization "as our friends and partners".
"We see it as unjust that St. Vincent and the Grenadines with a population of around 100,000 people has a place in the United Nations while Taiwan with over 20 million and the 18th largest economy in the world still fighting to have its voice heard within some of these organizations," he said.
Acting Prime Minister and Minister of Education Girlyn Miguel, who also addressed the ceremony, thanked Taiwan for supporting the development of the education sector here.
She said as a result of the support, many underprivileged children had been given an opportunity to further their studies in Taipei.
"At this present moment we have 40 of our students getting higher education in Taiwan. Many of them who are there they would not have been able to get that higher education had it not been for that government," she added.
St. Vincent and the Grenadines is among a handful of Caribbean Community (CARICOM countries that enjoy diplomatic relations with Taiwan. Most CARICOM states have diplomatic relations with China
(*)Foreign Affairs Minister Camilo Gonsalves is the son of PM Ralph Gonsalves