Pulp mill conflict: Argentina summons Uruguay: roll back latest decision or see you in The Hague
Wednesday, October 16th 2013 - 00:26 UTC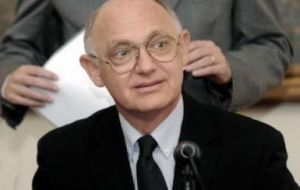 In a formal presentation Argentina summoned Uruguay 'to leave without effect' its latest controversial decision allowing the Botnia/UPM pulp plant to increase its annual production and accused Uruguay of 'unilateral violation' of the River Uruguay statute which rules over the neighbouring countries shared-border waterway.
The letter signed by foreign minister Hector Timerman was presented on Tuesday to the Uruguayan embassy in Buenos Aires pointing out that in reference to the 2 October resolution from the Ministry of Environment, 1334/2013, authorizing the UPM (former Botnia) plant to increase the annual maximum production volume, such decision constitutes a 'unilateral rupture' and 'a new violation by Uruguay of its obligations which emanate from the River Uruguay Statute".
Likewise it underlines that "the non compliance by the UPM/Botnia plant of the standards conveniently established, will be aggravated if the authorization of increasing the maximum production volume is finally implemented".
Therefore the Argentine government requests Uruguay to leave without effect such resolution. And if not, "Argentina will consider that the controversy which has emerged can not be resolved via negotiations and will be forced to implement the procedure before the International Court of Justice", concludes the letter.
The publication of the letter follows on early statements from Uruguayan president Jose Mujica who said he was waiting for the 'full recovery' of Argentine president Cristina Fernandez and the 'electoral process' is over before sitting down to talk.
"We have decided not to make any more statements and wait a little longer. We wanted to see that the President (Cristina Fernández) recovers and that she was discharged," Mujica told media and added that Argentina is at "an electoral process" taking Montevideo to be "cautious" and wait after the legislative elections of October 27.
Bilateral tensions increased in the past days when the José Mujica administration authorized the UPM pulp mill company to increase its production, a move Argentina saw as a setback in a dispute that dates back to 2007. Buenos Aires had indeed vowed to take its claims to The Hague international court to rule on the diplomatic conflict and now apparently it has become official.