Uruguay ambassador in Buenos Aires blames Minister Almagro for rough relations with Argentina
Thursday, October 17th 2013 - 21:19 UTC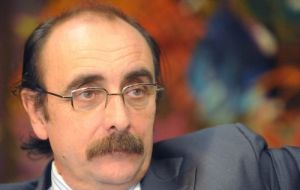 "There are no relations, diplomatic relations (between Argentina and Uruguay) are managed by Zanini and me" confessed Uruguayan ambassador in Buenos Aires Guillermo Pomi to Argentine opposition lawmaker Elisa Carrió.
Carlos Zanini is the Argentine Executive Legal and Technical Secretary and considered the closest and most trusted advisor of President Cristina Fernandez as well as of her late husband and former president Nestor Kirchner. The president 'in the shadow' in her absence, as is the case currently with Cristina Fernandez recovering from major surgery.
In an interview with the Montevideo daily El Pais, lawmaker Carrió said ambassador Pomi assured Carrió that "the problem (for Argentina's lack of respect for Uruguay in the pulp mill dispute and other bilateral problems) is Foreign Minister (Luis) Almagro".
Carrió and ambassador Pomi by chance shared the three-hour trip on board the River Plate shuttle between Buenos Aires and Montevideo.
A bit surprised and scandalized by Pomi's confessions, lawmaker Carrió who considers herself a good friend of Uruguay at all times, and of the different political parties, said that it was shocking for her that the current controversy as mentioned by Pomi "is because Uruguayans can't make Uruguay to be respected by Argentina".
She added quoting Pomi, that "the problem is that foreign relations are managed by Zanini and Pomi, and not in the hands of (Foreign ministers) (Hector) Timerman or Almagro"
She added "do you have an idea of the barbeques organized by Pomi at the embassy for the Campora group (youth movement fiercely faithful to President Cristina Fernandez and headed by her son Maximo Kirchner), because he is a good friend of Zanini, since they both have left-wing backgrounds?"
"I shouldn't be revealing the content of a private conversation but it was overheard by all those travelling in the shuttle ferry, and because I'm shocked at the diplomatic errors committed by both sides", insisted Carrió.
"We must giver diplomacy the place it merits, and both countries should understand that they are more than brothers. If I was president first thing I'd do is to apologize to Uruguay for the ill-treatment and abuse from the Kirchner couple", underlined the opposition lawmaker.
"This happens for not having professionals running diplomacy and two light weight bum-kissers running foreign relations. This chums' thing of the seventies can only end in disaster as it has"
Carrió immediately said "mind you I have great respect for President Mujica and for all Uruguayans. But that war declaration against Uruguay from Gualeguaychú (the town in Argentina across the River Uruguay from the pulp mill and source of pickets and complaints) was the most ridiculous and aggressive thing I've seen in my life. Shame on the Kirchner couple that believes Uruguay is Punta del Este; New York is the US and Paris the rest of the world"
Argentina and Uruguay have been clashing over the construction of the Botina/UPM pulp mill on the shared and jointly managed River Uruguay since 2006, Argentina alleging the plant contaminates and was not informed about the project and Uruguay denying such allegations and insisting UPM abides by the strictest of EU safety and environmental standards.
In 2010 a ruling from the International Court of Justice in The Hague (Argentina presented the case) helped to cool tempers, end pickets blocking for years an international bridge and establish a more civilized neighbourly relation, but this month Uruguay announced it was allowing UPM to increase annual production from 1.1 to 1.2 million tons and again hell broke out.
Timerman on two different occasions set an ultimatum demanding an immediate roll back of the increase authorization if not Argentina would again appeal to the International Court of Justice.
To the first President Jose Mujica replied that 'only God sets ultimatums', and ordered his cabinet to be silent until after the 27 October mid term election in Argentina.
To the second, minister Almagro signed a long letter detailing the procedure complied by Uruguay according to the River Uruguay statute, to the ruling from the International Court of Justice and international law referred to the UPM production increase and again denied any contamination according to agreed standards.
With Cristina Fernandez out of action in convalescence, mid term election in two Sundays and with no clear guidance as to whom really runs the show in Argentina, the words from lawmaker Carrió shed some light as to what might be happening.