Barroso optimistic about coming 'events' in EU/Mercosur trade negotiations
Monday, October 21st 2013 - 07:47 UTC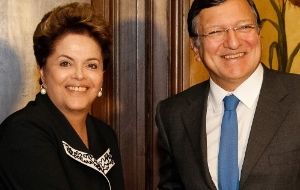 The president of the European Commission, Jose Manuel Barroso anticipated that 'soon' there will be 'events' referred to the EU/Mercosur cooperation and trade agreement and underlined that Brazil is most interested in making possible such an accord.
"We have been holding talks with Mercosur, I know that the Brazilians are far more interested now in reaching an agreement with us, and most probably there will be events very soon", said Barroso on the sidelines of the recently agreed EU/Canada free trade agreement.
Barroso revealed that "I have been talking about this issue quite often with (Brazilian) president Dilma Rousseff".
The EU and Mercosur (Brazil, Argentina, Paraguay and Uruguay, and Venezuela which is not part of the current negotiations) back in 2010 resumed discussions for an association and cooperation agreement which includes a more open bilateral trade. Negotiations had been stalled for several years.
However despite these efforts and the three years gone by, not much has been advanced in liberalization of trade terms, since Mercosur and EU have yet to exchange proposals on market access for the different products.
In a recent visit to Brazil the EC Vice-president and responsible for Industry, Antonio Tajani said publicly that "Mercosur has its (internal) problems" and any agreement with the EU "much depends on the South American bloc", since there are clearly diverging policies.
"We are going to see what Mercosur does", but in the meantime we will keep talking with Brazil 'on other issues' which are not strictly trade related.
Finally last Friday the EC Trade Commissar Karel De Gucht said at the end of an EU trade ministerial council, that "it is up to Mercosur to decide in which format they wish to continue with discussions".
Brazil and Uruguay, and to a certain point Paraguay are much interested in moving ahead with a Mercosur/EU cooperation, association and trade agreement, but Argentina and its current 'industrialization' policy is more reluctant to open its market and to expose jobs.