Uruguay and Brazil agree Mercosur will make a joint trade proposal to EU next December
Tuesday, October 22nd 2013 - 19:32 UTC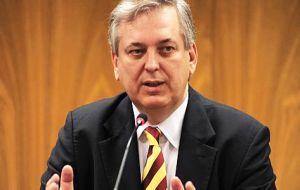 Uruguay and Brazil have concluded their proposals to present to the European Union and are waiting for Argentina and Paraguay, in the framework of current negotiations, delayed for years, to reach a free trade and cooperation agreement between the two blocs.
The issue was analyzed on Monday by President Jose Mujica with the Brazilian Foreign minister Luiz Alberto Figuereido during a meeting at the Executive Tower in Montevideo which also included Uruguay's foreign minister Luis Almagro
Figuereido in his first trip to Montevideo as minister revealed that Argentina is working on its proposal and a joint Mercosur position will be presented next December in Brussels, adding there was still time to discuss the four proposals trying to reach a consensus in a draft document for all the region.
"It is not anticipated that Brazil and Uruguay make an independent proposal to Europe, it's going to be a whole Mercosur affair", insisted Figuereido.
Nevertheless in a press conference that followed the meeting Figuereido pointed out to the strong coincidence of both countries in promoting an agenda of negotiations with third countries, particularly the European Union.
Last week there were some doubts from the European side which seemed more willing to negotiate with Brazil instead of the whole of Mercosur if further delays surfaced. European Commission Vice-president for Industry Antonio Tajani during a visit to Brasilia stated that Mercosur has "internal problems" to address a negotiation with the EU, and thus dialogue will continue with Brazil "which speaks the same business language as the Europeans".
However such position was rejected by the EU representative in Montevideo, Francois Roudié who stated that negotiations will take place but between the two blocs. He added he was 'reasonably optimistic' that negotiations would conclude successfully.
In 2006 dialogue was interrupted because of the differences emerging from the proposals. Nevertheless Mercosur privately admits certain apprehension with Argentina, which is embarked in a restrictive trade policy promoting domestic industry and market, and could be reluctant to continue with the EU negotiations.
At bilateral level Figuereido said Brazil seeks a 'paradigmatic' integration with Uruguay which can act as a cooperation example for the region. The idea is not only for the free movement of goods and people, but also an integration of the productive chains.
"It's two countries with all the political intention and all the economic and technical capacity to go ahead with a real integration. Both governments are committed to this", said Figuereido.
Brazil also requested support from Uruguay at international forums for an internet "civilian framework" to preserve privacy for corporations, governments and individuals. Figuereido recalled that the Ministry of Mines, was the target of cyber spying as was Petrobras and even President Dilma Rousseff personal e-mails.
"This goes far beyond the traditional concept of espionage and has very serious human rights implications. It's a new issue a new challenge that must be addressed with the seriousness it merits", said Figuereido.
"We must ensure citizens freedoms, free media and free expression, guarantee the privacy of companies, data and people", emphasized the Brazilian official.
In other issues it was agreed for a visit of President Mujica to Brasilia to meet with his peer Dilma Rousseff but no definitive dates were managed.