Germany and France demand a "no spying" agreement from Washington
Friday, October 25th 2013 - 14:29 UTC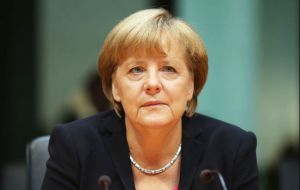 German Chancellor Angela Merkel demanded that the United States strike a "no-spying" agreement with Berlin and Paris by the end of the year, saying alleged espionage against two of Washington's closest EU allies had to be stopped.
Speaking after talks with EU leaders that were dominated by allegations that the US National Security Agency had accessed tens of thousands of French phone records and monitored Merkel's private mobile phone, the chancellor said she wanted action from President Barack Obama, not just apologetic words.
Germany and France would seek a "mutual understanding" with the United States on cooperation between their intelligence agencies, and other EU member states could eventually take part.
"That means a framework for cooperation between the relevant (intelligence) services. Germany and France have taken the initiative and other member states will join," she said.
In a statement issued after the first day of the summit, the EU's 28 leaders said they supported the Franco-German plan.
Merkel first raised the possibility of a "no-spying" agreement with Obama during a visit to Berlin in June this year, but nothing came of it. The latest revelations, part of the vast leaks made by former US data analyst Edward Snowden, would appear to have renewed her determination for a pact.
The United States has a "no-spying" deal with Britain, Australia, New Zealand and Canada, an alliance known as "Five Eyes" that was struck in the aftermath of World War Two.
But there has traditionally been a reluctance to make similar arrangements with other allies, despite the close relations that the United States and Germany now enjoy.
Merkel said an accord with Washington was long overdue, given the shared experiences the countries face. "We are in Afghanistan together. Our soldiers experience life threatening situations. They sometimes die in the same battles," she said.
"The friendship and partnership between the European member states, including Germany, and the United States is not a one-way street. We depend on it. But there are good reasons that the United States also needs friends in the world."