Paraguayan president ratifies full political support for Mercosur
Saturday, October 26th 2013 - 00:25 UTC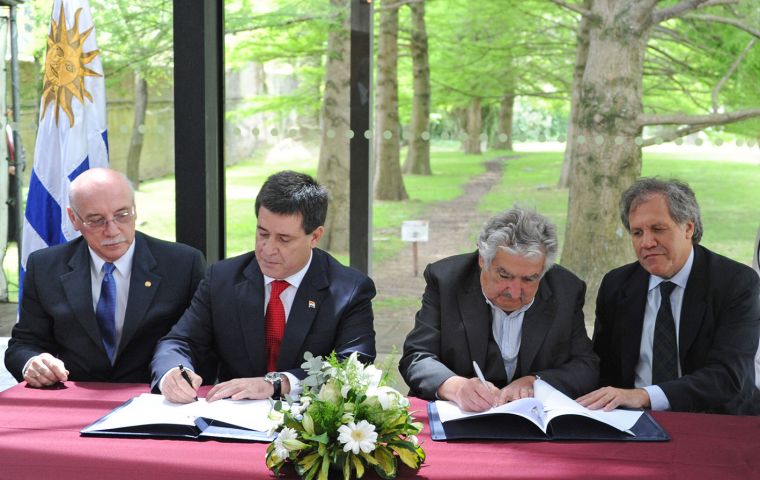 President Horacio Cartes although admitting he is heart and mind committed to Mercosur, Paraguay's full return to Mercosur is in the hands of diplomacy since as head of state he must abide strictly by the rule of the law.
"When Cartes candidate was on campaign I was politically fully committed to Mercosur, I can't see (small) countries acting on their own, but as president I must comply with the rule of the law, international law, and that is a job for the diplomatic experts, for the foreign affairs ministers", said Cartes on Friday during his brief visit to Uruguay and responding to a specific question on the issue.
Paraguay was suspended from Mercosur in June /July 2012 because of events which removed Fernando Lugo from the Executive following an overwhelming impeachment vote in the Senate to have him replaced by the Vice-president.
The suspension was to last until a new president was elected (April 2013), in this case Horacio Cartes who was inaugurated last August. However Mercosur at the same time leaving aside the institutional framework incorporated Venezuela as full member, ignoring consensus and attendance rules.
Venezuela's incorporation was pending for several years because the Paraguayan Senate refused to have the Hugo Chavez regime in the group. Once Mercosur ignored suspended Paraguay and incorporated Venezuela the Paraguayan Senate voted overwhelmingly against such incorporation.
Venezuela currently holds the Mercosur chair but Paraguayan policy remains.
Therefore the Cartes administration in Montevideo finished the round of bilateral contacts with Mercosur members leaders (Argentina, Brazil) but until the legal aspects are not concluded will it delay the formality of the full return.
This however did not impede the re-establishment of full relations with Venezuela or a bilateral meeting of Nicolas Maduro and Cartes in an Unasur summit in Suriname, and a visit of Venezuelan foreign minister Elías Jaua to Asuncion to formalize relations.
The stumbling blocks are basically the negative vote of the Paraguayan Senate, and Mercosur decision to incorporate Venezuela taking advantage of Paraguay's suspension, which as Cartes said "is the job of foreign ministers to untangle".
"Let's be practical, I support Mercosur politically: if Paraguay or Uruguay goes knocking on a door, 'yes. who's there? Paraguay', the reply will be 'come back on Monday'. But if we are united, if we have a larger weight and influence, we have Mercosur, as the world works today, they will open the door" illustrated Cartes.
But Mercosur also needs of Paraguay, because at the end of the year the trade bloc must agree on proposals to exchange with the European Union for a long delayed cooperation and trade agreement, and Brussels demands that all members must be part of such an exchange.