Cartes and Rousseff to open vital supply power line for Paraguay's capital built with Mercosur funds
Monday, October 28th 2013 - 20:30 UTC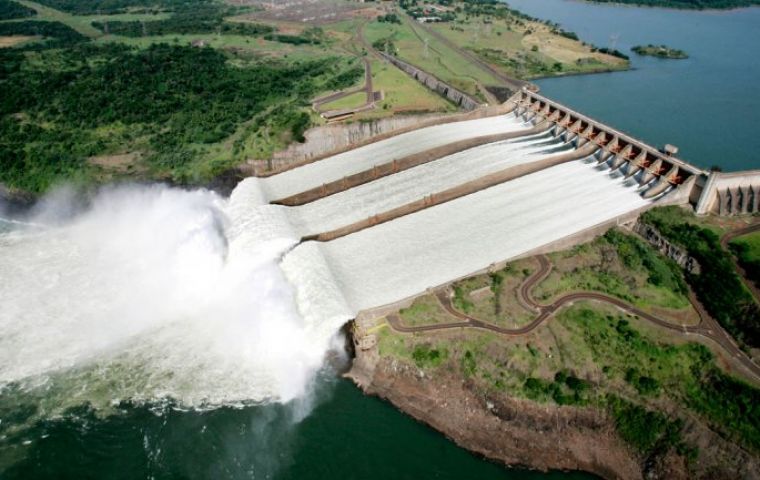 Brazilian president Dilma Rousseff will inaugurate on Tuesday in Paraguay next to his peer Horacio Cartes a high voltage transmission line from the world's largest operational hydroelectric dam Itaipú to metropolitan Asuncion, capital of the landlocked country and which was financed with Mercosur funds.
The two leaders will meet at the town of Hernandarias next to the Itaipú dam, 350 kilometers east of Asuncion. The transmission line will transmit 500KW to Villa Hayes in the outskirts of Asuncion and will help set up an industrial park in the region plus combat blackouts in the capital city, despite the fact that Paraguay is one of the few privileged in the world with surplus power.
Paraguay shares Itaipú with Brazil which receives 25% of its electric power from the dam, and a second Yaciretá, not so large with Argentina.
The capital Asunción has a population of over two million and has seen power consumption soar but the distribution system has been lagging.
Brazil thus contributed with 400 million dollars from the Mercosur Structural Convergence fund, which was also part of the agreements signed back in 2009 by former presidents Lula da Silva and Fernando Lugo when Brazil pledged to increase the share of Itaipú benefits with Paraguay.
The Paraguayan director of Itaipu, James Spalding said the 500 KW transmission line was on a trial period since early October, and if no problems or inconveniences are reported, the management of the grid will be transferred to Paraguay's power system.
Spalding also revealed that production from Itaipú dam represents 8% of the country's GDP and power is the second export item behind soy beans. Last year it climbed to first place because a drought seriously limited that year's soy crop.
"With this new transmission line Paraguay will have the highest per capita energy availability, plus a limitless renewable energy", underlined Spalding.