Night of fury in Sao Paulo: 90 detained and scores of buses and trucks torched
Tuesday, October 29th 2013 - 18:26 UTC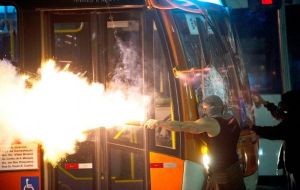 One person was injured and 90 detained while trucks and buses were torched in Sao Paulo late Monday in renewed violence after police fatally shot a 17-year-old boy. A police statement said some of the rioters made use of firearms during the unrest and added that one pedestrian was injured during the shooting and rushed to hospital by police.
According to the police release 90 rioters were detained while three trucks and six buses were set ablaze and shops looted. Earlier, a police spokeswoman said some 500 youths were involved in the latest disturbances as vandals forced the temporary closure of a local highway.
Television pictures showed hooligans climbing atop a truck after forcing the motorist to turn back while other vehicles were set on fire.
Monday's protest in Brazil's largest city began earlier in the day in response to the shooting death of the teenager in a confrontation with police Sunday.
Police said a policeman called to check on a disturbance in the northern Vila Medeiros neighborhood, accidentally discharged his weapon and hit a 17-year-old youth who was rushed to hospital but subsequently died of his wounds. Hundreds of angry youths then went on a rampage, attacking buses and ransacking area shops, they added.
Last Friday, vandals also smashed windows and ATM machines and battled riot police here in violence blamed on the "Black Bloc" anarchist group.
Police fired tear gas and arrested 92 people during the disturbances, which began as a peaceful march to demand free public transportation for students before turning violent.
Sao Paulo's military police said a police colonel was mobbed and beaten by a group of "criminals disguised as protesters" who stole his pistol and radio.
Dressed in black, their faces masked, heads covered with a handkerchief of T-shirt, Black Bloc anarchists have been a disruptive factor in a wave of protests that have hit Brazil since June.
The social turmoil is unwelcome news for Brazilian authorities as they prepare to host the World Cup next year and the Summer Olympics in 2016.
Sao Paulo, with a sprawling metropolitan area home to 20 million people, will host the opening game of the World Cup next June 12. More than a million Brazilians took to the streets in June, angry at substandard social services, endemic corruption and the millions being spent on the high-profile sporting events.
During the weekend Brazil's sports minister Aldo Rebelo said he is not expecting waves of anti government protests during the World Cup next year arguing the Brazilian people will be more interested in celebrating the tournament than complaining about its cost.