Brazil commemorates 25 years of the post-dictatorship constitution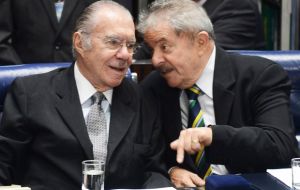 Four former Brazilian presidents Jose Sarney, Fernando Color de Mello, Fernando Henrique Cardoso and Lula da Silva were honored at a ceremony in the Senate to commemorate the 25 years of the 1988 constitution.
The four ex heads of state and other politicians received the Ulyses Guimarares medal the highest decoration of the Brazilian Congress for their contributions to the current constitution.
The constitution, the seventh in the country's history, was promulgated on 5 October 1988, after a year and eight months of discussions by a constituent assembly elected in 1986.
The current constitution was drafted as a reaction to the period of military dictatorship (1964/1985), and sought to guarantee individual rights and restrict the state's ability to limit freedom, to punish offences and to regulate individual life. Among the new constitutional guarantees are the errand of injunction and the habeas data. It also anticipated the existence of a Consumers' Defense Code (enacted in 1990), of a Children's and Youth Code (1990) and of a new Civil Code (2002).
Ex president Cardoso however was absent for health reasons and Collor de Mello cancelled his participation at last moment.
Lula da Silva (2003/2010) and Cardoso (1995/2002) were honored for having been members of the constituent assembly and Sarney (1985/199) for having convened the constituent, and Collor de Mello (1990/1992), the first president elected under the new rules, and also the first to be removed following impeachment.
"Do we need to commemorate? Of course, we had no military coup in these 25 years and the Constitution has guaranteed the democracy and the political freedom we all enjoy" said Sarney who is currently a Senator with the Brazilian Democratic Movement party, PMDB, the senior partner of the ruling coalition.
Lula da Silva from the Workers Party he founded and had him elected president twice, admitted he voted against the constitution as a member of the constituent because his party "had a project quite different to the one finally approved".
"We had 16 constituents at the time but we acted as if we were 470", said the former union leader who admitted that it would have been very difficult to rule Brazil if the constitution approved had been that sponsored by his party.
Senate president Renan Calheiros underlined in his speech some of the great accomplishments of the constitution, among which, de-limiting lands of the indigenous peoples, universal vote, freedom of the press, minimum salary, workers' rights and unemployment insurance.
Other politicians who were honored at the ceremony included current Vice-president Michel Temer, who represented President Dilma Rousseff and the president of the Lower House, Henrique Eduardo Alves.
President Rousseff belongs to the Workers party and was sponsored by Lula da Silva as his successor.