Hedge fund remains hopeful of a "consensual resolution" of bonds dispute with Argentina
Thursday, October 31st 2013 - 20:44 UTC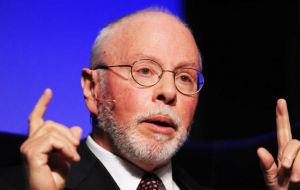 In a letter to investors dated October 28, Elliott Management said it remained hopeful that a "consensual resolution" can be achieved with Argentina regarding the hedge funds dispute. Elliott, which ranks among the industry's most enduring funds, having opened in 1977 with one million dollars in assets, tried to force Argentina to make full payment on bonds it bought more than a decade ago.
In the same 13-page letter to report its quarterly numbers, the firm said the US Federal Reserve's easy money policies have distorted the economy and created big risks for markets and investors alike, prompting the hedge fund firm to add to long gold options to protect against inflation.
It called the US government "dysfunctional" only days after a paralyzing government shutdown, and said the current situation in Washington cannot be beneficial for financial markets or investors.
To protect against future crises, the firm, which is run by Paul Singer, said it has put money into activist strategies where the outcomes and stock movements may be less correlated to market movements.
Elliott's flagship Elliott Associates fund gained 3.8% during the quarter and is up 9.3% for the first nine months of the year, according to the letter. Elliott International, the firm's offshore fund, is up 9.0% through the end of September, also beating the average hedge funds 5.5% gain.
The broader stock market, however, rose much more over that period, with the Standard & Poor's 500 index gaining 19.8% in the first nine months of 2013.
Furthermore, the firm takes swipes at US lawmakers and Europe, saying there has been little progress in overhauling the "unsustainable structure of the European Union."
US and European activist equity and event-driven positions make sense now, Elliott Management said, because this strategy allows investors to be less influenced by "governmental manipulations."
"Not only does the activist component serve to create value and protect capital, but it also gives us a chance to dig ourselves out of mistakes or bad luck," the letter said.
While risk-taking at financial institutions has declined since the financial crisis and balance sheets show that US and European banks are solvent, Elliott worries that leverage is still too high and transparency is not what it should be.
"The really bad news is that the 'hair trigger' aspect of modern global trading markets is just getting more intense," the letter said.
Elliott Management also said the US Federal Reserve's quantitative easing policy has caused stocks to rise, fueling a form of inflation. In the portfolio, Elliott is adding to its bullish gold option holdings that aim for limited downside risk with a large upside potential, saying it still feels that fundamentals are "uniquely positive for gold."
Fellow hedge fund manager John Paulson, whose gold fund has been hit by heavy losses this year, has also stuck by his view that inflation will rebound at some point and that his holdings will pay off then.
Elliott also said it believes that shares of energy group Hess Corp. continue to trade substantially below intrinsic value, and said it looks forward to the corporate restructuring now under way. The stock has climbed 52 percent this year.
Elliott Management said it is nearly fully invested and "able to add to the firm's capital."