Shell aggressively quickening offshore oil exploration pace in Uruguay
Thursday, October 31st 2013 - 04:05 UTC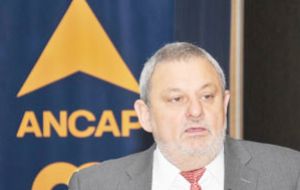 Oil exploration in Uruguay picked up strongly with the arrival of Anglo-Dutch Shell which took over Brazil's Petrobras participation in two offshore blocs according to the country's oil company Ancap Exploration and Production manager Hector de Santa Ana.
"Shell arrived with a very aggressive position increasing its exploratory units which had been committed when signing the contract in 2009", said Santa Ana.
Shell recently purchased from Petrobras for 17 million dollars its share of blocs 3 and 4 of which it held 40% together with Argentina's YPF (another 40%) and Portugal GAL (20% of each bloc).
"Even when there are other companies that have more blocs they are all working at a great rhythm. Such is the case of France's Total with one bloc but their position is also very aggressive", revealed the Uruguayan official who added that the promised 1.6 billion dollars investments is moving faster than expected "with two thirds of the sum already executed".
De Santa Ana said that Uruguay is very well positioned in the industry "by world consultants and this is because of the overall investment sum and because of the international acknowledgement of the companies exploring and the logistics support companies involved.
"The companies involved in hydrocarbons exploration in Uruguay are among the top ten in the world, with great resources, such as Shell which we chased until they agreed to come to Uruguay", said de Santa Ana. "It's a very dynamic and constant process. To know whether there is oil you can only confirm it by drilling a well, and if it exists in commercial volumes, an only well is not enough. You need to drill several more before the company is convinced to continue".
Meanwhile Petrel Energy together with Schuepbach Energy confirmed the presence of an active hydrocarbon system in a second source at the Piedra Sola block in Uruguay's Norte Basin.
Analysis of shale samples from the Cardozo Chico E-1 corehole had confirmed oil generation. The shale is considered to be part of the Permian San Gregorio Formation and correlates favorably with the shale identified in the Canada de Charrua corehole drilled by Uruguay national oil company ANCAP.
The joint venture had previously identified an active hydrocarbon system in the Devonian Cordobes shale in the block. Petrel has a 25% interest in private U.S. company SEI, which holds a 100% interest in the Piedra Sola and Salto concessions. It has two options to increase its interests to 60%.