IMF warns about global slowdown and appeals to Latam governments' prudence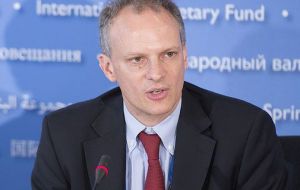 The Director of the International Monetary Fund's (IMF) Western Hemisphere Division, Alejandro Werner, says Latin American and Caribbean economies are well placed to once again sustain relatively high growth rates.
"Overall, we are expecting positive growth, a stable financial environment," said Werner who attended a forum here on Western Hemisphere Affairs, organized by the Miami-based Latin Trade Group.
But Werner said that while the Caribbean and Latin America are on their way to an economic comeback, albeit slow, he warned governments to still remain prudent.
"The region is kind of slowing down to more normal and sustainable rates of growth," he said. "But this has to be handled prudently. The policy framework should recognize that this is a new reality and not try to push through policy, fiscal or monetary, to achieve growth rates that are not aligned with potential growth," he added.
The IMF official cautioned that slowdown of the Chinese economy, falling commodity prices, high fuel prices and upcoming changes in US monetary policies "could all have a negative impact on the region's fragile economies."
Werner noted that Caribbean economies are growing at 1%, with some countries, such as Jamaica, Antigua and Barbuda, and Grenada, turning to the IMF for financial aid.
"The tourism dependent Caribbean faces a very difficult challenge of jump starting growth, the region is decelerating a bit as the economy goes back to a more normal sustainable growth level," he added.
The Latin Trade Group considers itself a leading provider of information and business services to companies doing business in the region.