Chile's Torres del Paine park named '8th Wonder of the World" by VritualTourist
Saturday, November 2nd 2013 - 23:39 UTC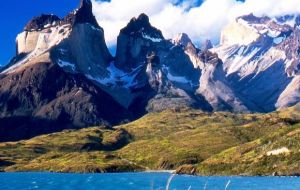 VirtualTourist announced that after more than five million worldwide votes, Turismo Chile's entry of Torres del Paine National Park has been named the "8th Wonder of the World".
Earlier this year, VirtualTourist declared it was on the hunt to identify the 8th Wonder of the World through site visitor votes. Torres del Paine, a UNESCO Biosphere Reserve known for its lakes, glaciers, waterfalls and granite towers, was chosen out of more than 300 entries from over 50 countries.
"VirtualTourist members and site visitors are some of the most well-traveled people. We knew we could tap into their knowledge to select the 8th Wonder of the World," said Kimberly Stirdivant Wason, head of public relations and marketing for VirtualTourist. "With its awe-inspiring physical attributes and breathtaking landscapes, it's no wonder our site visitors named Torres del Paine the winner."
Formed approximately, 145 to 66 million years ago, Torres del Paine National Park in Chilean Patagonia occupies 2,442 square kilometers and is well known for its beautiful mountain peaks with its highest point reaching 2,884 meters.
Chilean-born actor Cristian de la Fuente made the announcement on Los Angeles's top morning show "Good Day L.A." De la Fuente, who recently appeared on ABC's "Dancing with the Stars" and "Private Practice" and was born and raised in Chile's capital, Santiago, says Torres del Paine is a place where you can lose yourself.
"Chilean Patagonia is an amazing area of unlimited and unspoiled nature. Whether on foot or by car, one of the most impressive destinations this region has to offer is Torres del Paine."
Torres del Paine has become known as a hikers' paradise where visitors can traverse through a remote environment unlike any other. This last year, the national park received 15% more visitors than previous years with more than 139,000 trekkers.
"We always believed Torres del Paine had the natural qualities to become the 8th Wonder of the World due to its exceptional beauty and its breathtaking landscapes," said Chile Secretary of Tourism Daniel Pardo. "Being named the 8th Wonder by VirtualTourist, one of the most respected names in travel, we hope will bring even more adventure seekers out to Torres del Paine to experience its unique splendor."
El Salvador's Santa Ana Volcano and Lake Coatepeque, Colombia's Coffee Cultural Landscape, Guatemala's Tikal National Park, Slovenia's Skocjan Caves, Mexico's Copper Canyon, Scotland's Dunnottar Castle, Belize's Great Blue Hole, Curacao's Queen Emma Bridge and Croatia's Old Town Dubrovnik are the other landmarks receiving the most votes to make up the top ten.