Brazil posted in September its highest primary budget deficit in five years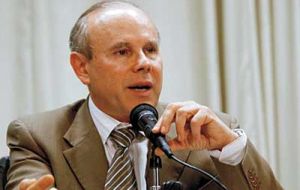 Brazil posted a primary budget deficit of 9.048 billion Reais (4.1 billion dollars) in September, its biggest in nearly five years and the government reacted announcing a plan of cuts fearing an impact from credit rating agencies.
Hours after the data from the Central bank was released, Finance Minister Guido Mantega called a press briefing to announce the government was analyzing cuts to expenditures related to unemployment insurance and mandatory wage bonuses.
Mantega said such costs could amount to 47 billion Reais this year, but he did not specify how big the cuts might be.
"The government is always working to meet our fiscal goals and reduce public expenditures," he said.
President Dilma Rousseff is under growing pressure to rein in spending after a range of tax cuts and cheap loans to businesses in an attempt to bolster the country's economy.
In the 12 months through September, the primary surplus was equivalent to 1.58% of GDP, down from the 1.82% posted in August.
The government may cut its primary surplus goal for the year, which was already lowered to 2.3% of GDP earlier this year from 3.1%. It could also reduce the goal by excluding billions of Reais in investment from the primary surplus calculations.
Analysts fear a loosening of the fiscal austerity that helped Brazil end decades of economic crises. Ratings agencies and private-sector economists have bashed Brazil's budget policy in recent years, saying it has relied on last-minute accounting gimmicks and extraordinary revenues to attain its goals, instead of curbing spending.
Moody's Investors Service dropped a positive outlook on the country's ratings in October. Standard & Poor's, in turn, placed a negative outlook on Brazil's "BBB" credit rating in June, in a sign it could downgrade Brazil to the lowest level among investment-grade economies.