Botnia/UPM controversy: Argentina retaliates delaying Uruguayan exports
Monday, November 4th 2013 - 06:01 UTC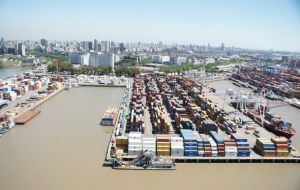 Argentina's clash with Uruguay over the Botnia/UPM pulp mill has led to furious retaliations from Buenos Aires severely limiting trade and not allowing Argentine exporters to make use of the port of Montevideo for transshipment.
According to Uruguayan sources the 'normal' rate of delay for exports destined to Argentina which was in the range of five million dollars, has soared three times to 15 million dollars. This means a further backlog of 10 million dollars.
"Restrictions and Customs delays have increased significantly since the no agreement was reached on stopping Botnia/UPM from increasing its annual production", revealed Uruguayan diplomatic sources.
"Customs have become more rigid and demanding to the last iota of the book which means many containers are delayed in the port or simply can't leave Montevideo", and "this is an order directly from Domestic Trade minister Guillermo Moreno".
Apparently there was also a political element in the brawl. Last August when the primaries, the city of Gualeguaychú supported the opposition candidate Alfredo De Angeli, so in October the ruling coalition's Victory Front took full advantage of the situation to openly accuse Uruguay of contaminating the river and ignoring bilateral treaties on management of shared waters.
The strong bellicose attitude towards Uruguay apparently helped recover the city for the Victory Front, but now somehow the Argentine government is forced to deliver something more than rhetoric.
According to the latest primary figures, Uruguayan export sales to Argentina dropped 20.6% in October, after having increased 26% in September.
Argentina denies any form of retaliation and says Customs has nothing to do with the Botnia/UPM pulp mill, but the facts indicate the opposite: not only the trebling of difficulties for Uruguayan exports but also the latest resolution impeding the dispatch of Argentine exports from the port of Montevideo.
A decision which has also been vigorously questioned by the Argentine exporters.