Cristina Fernandez wants Argentine tourists to remain and visit Argentina
Monday, November 4th 2013 - 05:54 UTC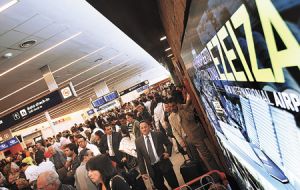 The administration of President Cristina Fernandez is preparing a package of measures in an attempt to further impede the outflow of hard currency, mainly US dollars, for which it is planning to establish a double exchange rate system. The measures target tourism, a bill of 8 billion dollars which has become dearer than the energy deficit.
In effect Argentines travelling overseas have spent over 8bn dollars this year which is double the outflow of last year and 23% higher than the energy bill (6.5bn dollars). This becomes even more dramatic since during October the Argentine central bank lost 1.4bn dollars in reserves and is forecasted to end the year with an erosion of 11bn dollars.
But according to the Buenos Aires media, for the package of measures to be successful the Cristina Fernandez administration is thinking about replacing some members of its team. Apparently the ministry of Economy is one and a serious candidate for the job is Diego Bossio currently head of Social Security. He is seen as a more market friendly candidate and has the support from the governors.
But another heavy weight for the post is Axel Kicillof currently Deputy Economy minister and who most strongly supports having a multiple exchange money system, an idea he has been sponsoring for over a year. But he has been a close supporter of Guillermo Moreno, the much questioned Domestic Commerce minister.
Other names include Chaco governor Jorge Capitanich, a successful governor from the north of Argentina and who is one of possible successors of Cristina Fernandez and Kirchnerism. He has been in Buenos Aires and held a meeting with cabinet chief Abal Medina.
Some cabinet ministers have even proposed contacting economist and former Central bank president, and at one time advisor to the Bank of England, Carlos Mario Blejer.
But, the proposals and the aspirations have yet to overcome the highest wall: they must convince president Cristina Fernandez and her closest most trusted advisor, Carlos Zanini.