Gibraltar clears EC test on tax and money laundering matters cooperation
Monday, November 4th 2013 - 23:46 UTC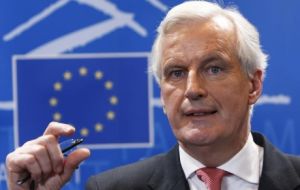 The European Commission has received no 'well-founded' complaints alleging Gibraltar's failure to cooperate on tax, financial and money-laundering matters, according to Michel Barnier, the Commissioner for Internal Market and Services. In response to questions in the European Parliament, Mr Barnier also confirmed that Gibraltar was fully up to date with the transposition of EU legislation in all three fields, according to a report from the Chronicle.
The answers to the questions effectively torpedo repeated claims by Spain that Gibraltar is a badly regulated and opaque centre for tax evasion and money laundering. They also scuttle Spanish accusations that the Gibraltar Government does not cooperate with the exchange of tax and financial information.
The Gibraltar Government has long maintained that it complies fully with international laws and regulations and that Gibraltar is a well-regulated financial centre in Europe. Now, the response from Mr Barnier will add weight to that argument.
The questions had been tabled by Gibraltar's Liberal Democrat MEP, Sir Graham Watson, who noted that the International Monetary Fund had described the Rock as "a well-regulated financial sector".
"The Gibraltar authorities are concerned with protecting the reputation and integrity of Gibraltar as a financial centre, and are cognizant of the importance of adopting and applying international regulatory standards and best supervisory practices," Sir Graham said.
"Gibraltar has a good reputation internationally for cooperation and information sharing."
He asked: "Can the Commission state whether it has ever received a well-founded complaint regarding an alleged failure by the Government of Gibraltar to provide or exchange information or failure to collaborate generally on tax, financial services or money laundering matters?"
The response from Mr Barnier was as short as it was clear. "To date the Commission has not received complaints meeting the description given by the Honorable Member," the Commissioner said.
Sir Graham had also the Commission to confirm that there were no directives on financial services, information exchange or mutual assistance on tax matters and money laundering outstanding.
In his response, Mr Barnier confirmed that Gibraltar had transposed the relevant directives on tax matters and money-laundering. He added: "Currently there are no infringement proceedings pending against the United Kingdom concerning the non-transposition of Directives on financial services in Gibraltar."