Uruguay extends UPM pulp mill production license for another three years
Monday, November 4th 2013 - 05:43 UTC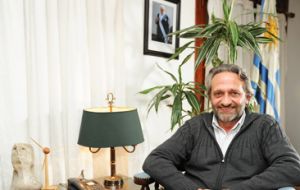 The Uruguayan government announced it has renewed until 2016 Botnia/UPM pulp mill license so it can continue with production since it complies with the necessary environmental requisites and is committed to the additional standards demanded, said Housing and Environment minister Francisco Beltrame.
The pro-government newspaper La Republica reported that last Friday Minister Beltrame had signed the Environmental Operations Authorization, AAO for UPM/Botnia since the current one expired on Monday, 4 November.
Beltrame said that UPM/Botnia has been complying with the additional environmental requisites demanded by the government following the authorization to increase production by 100.000 tons annually.
Uruguay conditioned the production increase to the compliance of several measures among which one referred to the dumping of phosphorus to the River Uruguay and lowering the temperature of the effluents from the plant. The conditions were accepted by the pulp mill which agreed to a timetable for compliance.
"The Finnish company was already complying with some of the measures we demanded, among which the one referred to phosphorus monitoring on the daily production", said Beltrame.
According to the resolution signed by Beltrame as part of the Environmental monitoring and follow up of the project there must be: daily control of the phosphorus load that goes into the biological treatment system and that of the one dumped with the final effluent; in three months the storage bay must be updated to avoid, in a situation of extreme rainfall that waste lime is dumped into the river and finally an additional cooling system to reduce the temperature of effluents to no higher than 30 degrees.
Meanwhile on Sunday as announced protestors from the Argentine border city of Gualeguaychú took to their yachts and boats to express their condemnation of a facility which, they say, pumps dangerous effluents and chemicals into the Uruguay River which marks the boundary between Argentina and Uruguay.
An estimated 20 boats according to the Uruguayan navy crossed from Gualeguaychú to UPM/Botnia jetty and with a megaphone read a statement condemning Uruguay for ignoring bilateral treaties and contaminating the river.
Likewise a caravan of 25 vehicles that pretended to cross the international bridge linking Argentina with Uruguay were impeded and after some protest turned back.
Uruguay displayed 150 marines including divers, plus a helicopter to dissuade protestors from trying to block the river or the international bridge.