Paraguayan president will not attend Mercosur summit in Caracas
Tuesday, November 5th 2013 - 07:47 UTC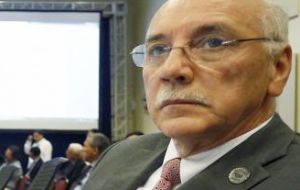 Paraguayan president Horacio Cartes will not be participating in the Mercosur summit scheduled to be held next month in Caracas, capital of Venezuela, which currently holds the rotating chair of the bloc, according to Paraguay foreign minister Eladio Loizaga.
The minister said the Paraguayan head of state would not be participating of any Mercosur summit until the country completes the adhesion protocol of Venezuela to the bloc, since the Paraguayan congress still has to take a vote on the issue.
Likewise, "President Cartes has received no official invitations from his Venezuelan peer Nicolas Maduro to participate in the summit".
However Loizaga recalled that the two presidents have already met, last August in Suriname during a Unasur summit, "which was a clear indication of the need to have closer links, and Venezuela foreign minister Elias Jaua recently visited Asunción".
"We need these contacts because it is demanding for Paraguay to rapidly join the regional and international context, even when we have advanced significantly", added Loizaga.
As to the incorporation of Venezuela as full member of Mercosur, which stills need a vote from the Paraguayan congress, Loizaga pointed out that "we are working to find a juridical solution with political backing".
Venezuela was admitted into Mercosur by the other three full members when Paraguay was suspended in July 2012, because of the impeachment and removal of ex-president Fernando Lugo.
However the decision was described as a 'congressional coup' by Mercosur, while at the same time admitting that the incorporation of Venezuela was accomplished because "sometimes political issues must overcome institutional situations", in the words or Uruguayan president Jose Mujica.
The administration of President Cartes insists that the full incorporation of Paraguay to Mercosur with all its rights needs to be done in the framework of the rule of the law, and respecting international law and Mercosur institutions.