"This woman (Cristina Fernandez) is a scoundrel, hates Uruguay and will try to harm us the most"
Tuesday, November 5th 2013 - 13:40 UTC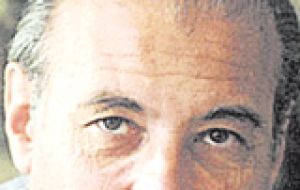 A Uruguay former central bank president and now head of an investment fund described Argentine president Cristina Fernandez as a 'scoundrel' that will do her utmost to harm Uruguay because 'they hate us'. Juan Carlos Protasi made the statements during a morning conference to analyze the current Argentine economic situation and its regional implications.
Protasi anticipated that Argentina's attitude towards Uruguay regarding trade obstacles and other impediments will not change until the end of the government of President Cristina Fernandez in 2015.
"She hates Uruguay. This Argentine government hates us and is going to do everything possible to make the utmost harm to Uruguay. This woman is a scoundrel and will try do damage Uruguay in whatever way", said Protasi who heads the investment fund 'Portfolio'.
"This Uruguayan government has been extremely considerate with the Lady, generous, infinitely contemplative and acting with painful nerve racking patience, but it has been to no avail. This Argentine government hates our guts", underlined Protasi.
He anticipated that the different conflicts between Argentina and Uruguay will not be solved until Cristina Fernandez steps down from office in December 2015, and added that the impact of her management of the economy will have a direct effect on Uruguay's real estate market, among other areas.
"There's an excess of supply and demand has dropped. Argentines have withdrawn from the market and Uruguayans demand is not enough to counter the loss. Real estate values are coming down and adapting to the new market circumstances, with different variations: along the coast and big apartments are over supplied. However smaller properties there still is demand for them", said Protasi.
The drop in value will increase in the midterm but if the government's promotion of the so called 'social housing' plan proves effective, "the real estate market should rebound in the number of operations sometime next year".
Protasi also forecasted that if Argentina's GDP drops 2.5%, "Uruguay will suffer a recession since the influence of Argentina's economy on Uruguay is very strong".
Asked if such a scenario was possible the head of Portfolio said that "with the current policies, Argentina will not be able to sustain a viability scenario in the future. We have to wait and see how succession works out but it seems they are determined to leave everything as bad as possible so whoever comes must be the repairman and implement painful readjustments".
Protasi also talked about Brazil and said the country continues at slow motion. "They can't make the economy pickup despite all the incentives because their costs are too high, the exchange rate of 2.20Reales to the dollar is not enough and since they are holding elections next year they are delaying much needed reforms. For the Uruguayan economy, this is also a complicated situation with repercussions".
Present at the conference was also Argentine orthodox economist Ricardo Lopez Murphy who said Argentina is 'paralyzed', has been so for the last month 'because no one dares make a decision without consulting Cristina, since not one decision is taken or considered unless she is consulted, such is her concentration of power".
In this scenario all the major economic decisions have been frozen, inflation can be expected to reach 30% in the next twelve months, international reserves are down to 25 billion which is insufficient for Argentina, "and there is no way to keep the current level of subsidies with the energy deficit increasing".
However, "the Argentine situation is not as bad as it was in 2009, but the value of commodities, mainly soybeans, will not climb in the future, as it did then after the mild recession. Commodity prices will remain flat or continue a soft slide", said Lopez Murphy.