Brazil marks distance from US spying: 'we did not violate anyone's privacy rights'
Wednesday, November 6th 2013 - 03:26 UTC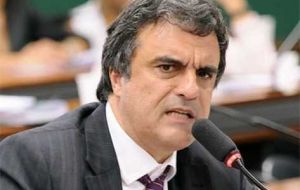 Brazil's Minster of Justice Jose Eduardo Cardozo said on Tuesday that the spying performed by his country's intelligence agency did not violate anyone's privacy rights - unlike the spying committed by the United States.
Cardozo's comments came after highly-respected newspaper Folha de Sao Paulo published a report describing how Brazil's Intelligence Agency, Abin, had followed Russian, Iranian, and Iraqi diplomats as well as monitoring property leased by the United States government.
Folha de Sao Paulo's report came on the heels of recent revelations that the U.S. National Security Agency, or NSA, had previously spied on the private communications of many Brazilian companies and individuals, including the emails and phone calls of President Dilma Rousseff herself.
Brazil discovered the U.S. had been monitoring private communications through documents leaked by Edward Snowden, the former contractor for the NSA.
Brazil's Minister of Justice, Jose Eduardo Cardozo said on Tuesday that his country was only practicing counterespionage "norms".
"I don't see what was done as a violation of privacy or rights, and it was done on national territory. So, if you ask me how does this affect Brazil's image, I would say that there has been no damage. All countries do, and have to do, counterespionage. What I can't do is violate the rights of other people. What I can't do is violate the sovereignty of others," Cardozo said.
In the wake of the diplomatic firestorm caused by the Snowden leak, Rousseff has both postponed a scheduled state visit to the U.S. and joined Germany in proposing an anti-spying resolution to the United Nations.
Germany was one of several other countries other than Brazil that were also allegedly targeted by NSA espionage. Alvaro Dias, a Brazilian senator, also said that the difference between the activities of Abin paled in comparison to the U.S.
"We have 500 million Reales (218 million dollars) for political intelligence and the United States has 55 billion. This is the difference," Dias said.