Falklands' tourist board on 'path to worldwide recognition'
Thursday, November 7th 2013 - 17:51 UTC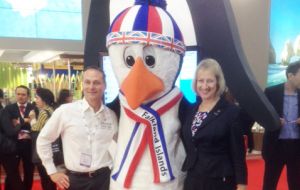 "We are encouraged to see the natural progression of the Falklands tourist board on a path to worldwide recognition", said Managing Director Tony Mason who announced plans for the establishment of an Islands' tourist board branch in London.
Mr Mason and a delegation from the Falkland Islands attended this year's edition of World Travel Market in London, which was held at London's premier exhibition centre EXCEL.
"The past year has been about destination awareness and 2014 will be about destination development and partnerships with neighboring countries, cruise lines and tour operators" pointed out Mr. Mason.
Tourism in one of the Falkland Islands industry both with land based visitors and the summer season of cruise vessels, some of them carrying more passengers than the total population of the Islands.
"This year's event in London has brought successful negotiations and the tourist board has signed agreements with strategic partners this week", said Mr. Mason.
As to the future the Falklands tourist board managing director said they include the establishment of a tourist board situated in London, which would not only offer tourist and visitors the opportunity to learn more about the Falkland Islands but also provide the facility to book a holiday on the spot.
"It would also build stronger relationships between the tourism sector and the Falkland Islands Government office in the UK", underlined Mr. Mason.
The plan would include an on-site travel agent which would oversee the bookings from start to finish. Further establishing a successful delivery of the Falklands' Tourism Development Strategy.
The London World Travel Market opened its doors on 4 November and closed on Thursday, 7 November.