Mercosur and Argentina top of the agenda in Mujica/Rousseff summit in Brasilia
Thursday, November 7th 2013 - 19:06 UTC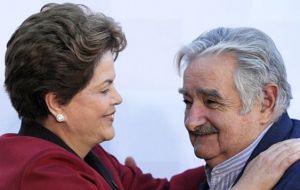 Mercosur negotiations, disputes with Argentina and economic complementation with Brazil are among the main issues of a long agenda that Uruguay and Brazil will address when President Jose Mujica visits his Brazilian peer Dilma Rousseff on Friday in Brasilia.
The trip was agreed last month when Brazil's new foreign minister Luis Alberto Figuereido visited Uruguay to prepare the meeting. At the time Figuereido said that Brazil and Uruguay "see things the same way and are committed to an integration that is beyond words, that is the free movement of people and goods".
Precisely this plan to further integrate Uruguay's economy with Mercosur largest, has been on the table for some time and there have been some advances.
However the main issue for both countries are the coming round of talks with the European Union for a long delayed trade and cooperation agreement that needs the support from all of Mercosur members, but which still is awaiting confirmation, particularly from Argentina.
In effect next month the EU and Mercosur are supposed to exchange consolidated proposals, which means the list of goods and services to be included in the deal. Brazil, Uruguay and Paraguay have admitted to having their proposals ready, but not Argentina, yet, which could further delay the round of negotiations.
Brazil and Uruguay at some moment did not discard a 'two-speed' Mercosur with those ready to advance to go ahead, and the others later, but the idea has been shelved hoping Argentina will finally jump in.
Another issue which most certainly Mujica will bring up with Rousseff is Argentina's attitude towards Uruguay regarding maritime traffic, ports and the ongoing dispute over the Botnia/UPM pulp mill.
Since Uruguay authorized an increase in annual production from the pulp mill, Argentina first warned, then complained and threatened and now has implemented measures limiting the activities of Uruguayan ports, Montevideo and Nueva Palmira, under the umbrella of a Mercosur maritime agreement which Uruguay has not signed.
This means in practical terms that neither Montevideo or Nueva Palmira will no longer receive Argentine exports in transit, since Uruguay did not sign the maritime agreement. Likewise much of the cargo from Paraguay which comes down the river Parana to Uruguayan ports will have to be handled in smaller volumes thus increasing costs.
Furthermore Argentine Customs have systematically, since the resurgence of the pulp mill dispute, delayed and when not blocked Uruguayan exports to Argentina. In the last month exports were down almost 20% and an estimated 15 million dollars in goods are waiting to be dispatched when the normal 'delay' is of 5 million dollars.
Other issues expected to be addressed are referred to Uruguay's yards building barges and other equipment for Petrobras off-shore operations and fluvial transport; shared wind farms; further promoting trade and Mujica's announcement that Uruguay will withdraw peace keeping troops from Haiti unless there are effective democratic advances such as free, transparent elections.
Brazil leads the UN peace forces in Haiti.