New Falklands Museum to be a positive political statement.
Saturday, November 9th 2013 - 18:59 UTC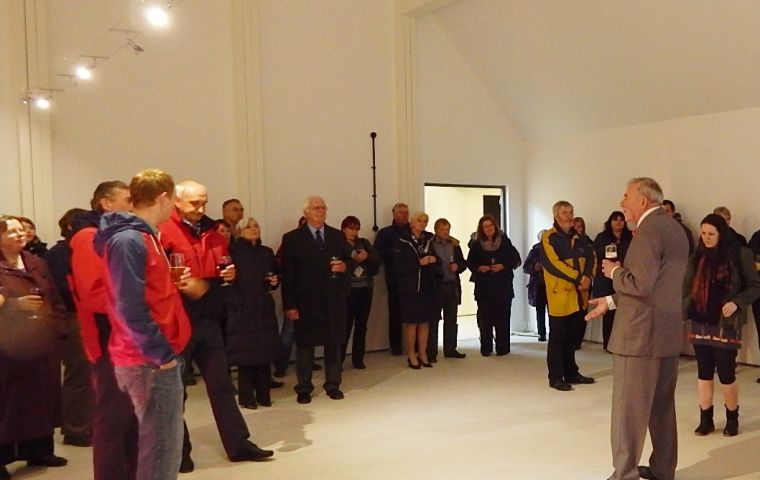 When the seat of government of the fledgling British colony in the Falkland Islands was moved from Port Louis to Stanley, in 1845, under the direction of Governor Moody, one of the first buildings to be constructed in what became known as the Government Dockyard, was a large store. This shingle clad, two story building, known as the Old Central Store still exists and is thought to be possibly the earliest large construction in the whole of the Southern Cone of South America.
Now, after nearly 170 years in government service, during which it has played several different roles, this imposing building, together with an equally imposing but traditionally-styled new building connected to it, will form the heart of a new national Falkland Islands Museum. Also on display in the old Government Dockyard will be exhibits too large to be accommodated at the museum's present site some distance from the centre of the town and other historic buildings like the first blacksmith's shop and the first jail.
A reception to present their future plans and to outline opportunities for patronage was held by the trustees of the Falkland Islands Museum and National Trust in the new museum building on the evening of November 8th following guided tours of the site, which is nearing completion.
Addressing the Trust's guests who included the newly elected Members of the Islands Legislative Council and local business people, Chairman Tim Blake thanked the members of the previous Assembly for releasing the funds which had made this project possible and expressed the hope that when up and running profitably, the museum might be in a position to repay some portion of the financial help received.
Mr Blake appealed to the community and particularly local businesses to help the trust preserve the history of the Falkland Islands. The museum was not just about improving the experience of the thousands of cruise ship visitors who visit Stanley each year, but would, he hoped, serve as a centre for the youth of the Islands to learn about their community's history and, in so doing would strengthen their sense of a national identity.
This theme was taken up by Museum Manager Leona Roberts during a presentation to guests which brimmed over with her own enthusiasm and excitement for a project which she described as "celebrating who we are at a time of great change." In this regard, said Mrs Roberts, the museum, would be making "a positive political statement about our Islands."
By John Fowler - Stanley