Cristina Fernandez returns to office next Monday 18, but tests will continue
Tuesday, November 12th 2013 - 00:21 UTC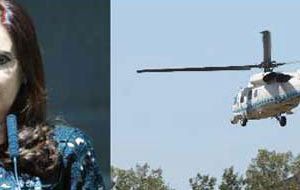 Argentine president Cristina Fernandez will resume official functions as of next Monday 18 November, after completing a month of convalescence, presidential spokesman Alfredo Scoccimarro announced on Monday. However further tests are programmed to check when the president can again travel by air.
"The clinical exams and the 48 hours Holter heart monitor check have revealed the absence of any significant arrhythmia and a positive cardiovascular condition," Scoccimarro explained from the Casa Rosada, reading from the president's latest medical reports.
Scoccimarro said Cristina Fernandez "will be ready to recommence her formal activities" from November 18, while adding that she would continue to receive secondary medical tests, such as brain scans and tests on her physical well-being.
On December 9 the president will undergo a detailed X-ray to determine whether she is once more fit to fly. Until that date, Cristina will govern from the government residence at Olivos once interim chief and vice-president Amado Boudou returns executive powers.
Scoccimarro added that this was the last medical report from the Fundación Favaloro doctors, Facundo Manes and Gerardo Bozovich, and from now on the monitoring is under the exclusive responsibility of the Presidential Medical Unit headed by Dr. Luis Buonomo.
The brief report said that the clinical controls and 48 hours Holter cardiac monitoring of President Cristina Fernandez, show the absence of a significant arrhythmia and a good cardiovascular condition. As with previous studies, an intermittent blockade of the left branch electric conduction was observed which does not interfere with a normal frequency and cardiac function.
Thus the patient has been given the cardiologic discharge and is in condition to return to formal activities as or next Monday 18 November.
As of now controls for the secondary prevention which will include, as has been advanced, a test of corporal oscillatory movement and pending efforts, following on the neuro-imaging control anticipated to assess air transportation, to be done on Monday 9 December.
Given her discharge to inpatient phase, future communications on the evolution of the patient's condition will be released by the Presidential Medical Unit.
The release is signed by Dr. Facundo Manes, NeuroSciences Institute from the Favoloro Foundation, and Dr. Gerardo Bozovich, Medical director fo the Favoloro Foundation.
Apparently according to Buenos Aires media reports the President makes long walks in the park and gardens of the residence, and is quite aware of what is going on because she's kept informed, avoiding stress, by the Executive Legal Counselor Carlos Zanini and her son Maximo Kirchner.