Falkland Islands' legislators elect three MLAs to the Executive Council
Tuesday, November 12th 2013 - 12:06 UTC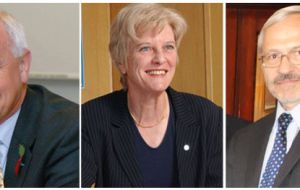 The first formal meeting of the newly elected Legislative Assembly was held on Monday morning in Stanley and it was confirmed that last Friday, following the election result the newly elected members of the Legislative Assembly met to discuss and distribute portfolio responsibilities.
At this morning's meeting, MLA Mike Summers outlined how the portfolio responsibilities had been distributed, as was reported in a release from Gilbert House.
Also at the meeting, it was decided which Members would serve on Executive Council for the next year. MLA Mike Summers was elected as the Member for Stanley. MLA Phyl Rendell was selected as the member for Camp and Barry Elsby was chosen as the member from either the Stanley or Camp Constituencies.
It was also confirmed that MLA Roger Edwards and MLA Ian Hansen will represent the Islands at the Joint Ministerial Council in London later this month. MLA Edwards will go on to attend the Overseas Countries and Territories Conference of the European Union in Brussels in December.
Under the Falklands constitution the Executive Council, acts as the upper house of the Falklands government. While the Executive Council is presided over by a Governor appointed by the British Government and includes a small number of other members such as the Attorney General of the Falkland Islands, the three elected members of the Executive Council drawn from among the elected members of the Legislative Assembly are the only members to have voting rights.