Latin America's English proficiency 'very low'
Wednesday, November 13th 2013 - 18:52 UTC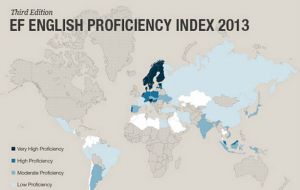 Despite a strong economy attracting new international business and increasing the need for multilingual professionals in the workforce, Chile remains one of the countries with the lowest levels of competency in English among adults worldwide, according to a study released Friday.
Education First, a Swiss-based education company with English language schools all over the world, created the third edition of its English Proficiency Index (EF EPI) by drawing on the test results of an estimated 750,000 adults worldwide who took English proficiency tests online, including only countries with over 400 participants in the final index.
Of the 60 countries included in the report, Chile ranked 44th, placing the country in the lowest proficiency bracket and below Latin American nations Peru, Mexico, Uruguay, Costa Rica and Argentina.
In the EF EPI's initial report two years ago, Latin America was identified as the region with the lowest proficiency in English in the world.
"Latin America is the weakest of all regions, with an average English proficiency score barely surpassing the low proficiency cut-off," the report states, putting the low scores down to, "the poor quality of public education across Latin America, combined with often low enrollment ratios."
Despite Chile's low ranking, the EF EPI report indicates that proficiency in the country has improved since 2011. English classes were made mandatory for fifth graders and above and subsequent efforts by the English Open Doors Program — first created in 2003 — and the Chilean Economic Development Agency (CORFO) have have further bolstered English language education in Chile. CORFO implemented a program for 2012 providing scholarships for intensive English courses and study abroad programs to 7,534 Chileans.
The only Latin American country to rank in the moderate proficiency bracket, the report claims that Argentina's higher rate of English proficiency among adults is due to its school enrollment rates, which have been consistently high since the 1970s, differing from other neighboring Latin American countries.
"Poor English remains one of the key competitive weaknesses of Latin America," the report reads. "More than half the countries in the region are in the lowest EF EPI proficiency band. Brazil, Columbia, Peru and Chile have improved, but they still lack the large base of competent English speakers necessary for a globalized workforce."
Education First's goals in creating this report was to offer a general interpretation of global trends regarding English language education and to provide countries with a way of judging national improvements or degradations over time. While the EF EPI is inherently limited in scope because it is only administered online, excluding countries and individuals without internet access and limiting examples to subjects who voluntarily took the online tests, it does offer a broad impression of leading trends, with 28 countries showing upward trends in the most recent report.
The report stresses how crucial learning English is to succeed in the modern business world, claiming that studying English is no longer a luxury but a necessity.
"Although English skills have long been an explicit requirement in certain types of jobs such as diplomacy and translation, those skills today are an implicit advantage in nearly any job across all sectors of the economy," the report reads.
It goes on to add that English skills are a fundamental component to a country's economic development.
"Rather than considering English as a nice bonus skill, to be added to the school day after more basic skills are mastered, curriculum planners would be wise to consider the central role English plays in determining employability and professional success," the report reads.
The EF-EPI of 60 countries shows Argentina first among Latam in position 19; followed by Uruguay, 29; Costa Rica, 37; Brazil, 38; Peru, 39; Mexico, 40; Chile, 44; Colombia, 44; Ecuador, 46; Venezuela, 49 and Panama, 56.
By Emily McHugh– The Santiago Times