EU approves 2014 budget 7% lower; 62bn Euros to stimulate growth and jobs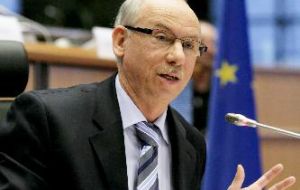 The European Union has clinched a deal on a sharply trimmed 2014 budget after a marathon 16-hour session ending a long dispute over how best to spend taxpayers' money. After decades of growth, next year's EU budget is set to be around 7% lower than this year's at 135.5 billion Euros in contributions by member states.
"Sixteen hours but a happy end," said EU Budget Commissioner Janusz Lewandowski on Wednesday after a night of negotiations to resolve a split over the budget between the bloc's three bodies - the 28 members' states, the European Parliament and executive European Commission.
Austerity-minded governments had wanted to keep their payments under 135 billion, which was 1 billion and 1.5 billion less than sought by the EU executive and parliament, respectively.
"We have agreed to reinforce the financing of such priority areas as economic growth, jobs, innovation and humanitarian aid," said Algimantas Rimkunas, the deputy finance minister of Lithuania, which currently holds the six-month rotating EU presidency.
Under the deal, some 62 billion Euros, or the largest portion of the budget, will be allocated to programs to stimulate growth and create jobs across the continent where over 12% of workers are on the dole. Extra funding will go also to EU agencies dealing with migration, asylum and border control as well as to humanitarian aid.
Administration costs will be cut by 1% as the EU moves to cut staff by 5% by 2017.
Ministers and MPs are now due to approve the new budget on November 19 and 20, paving the way for the European Parliament to adopt also next week the EU's long-term trillion-euro budget for 2014-20.
During the overnight haggling, ministers from Britain, Denmark, the Netherlands and Sweden opposed a compromise offer to raise the 2014 ceiling by 500 million Euros.
Danish centrist Anne Jensen, who steered the budget through parliament, regretted "an austerity budget" while adding: "I am glad we managed to secure more funds for growth policies for research, education and innovation and for humanitarian aid in the Middle East".