IMF to review Argentina's 'new' stats on inflation and GDP, next 9 December
Thursday, November 14th 2013 - 07:38 UTC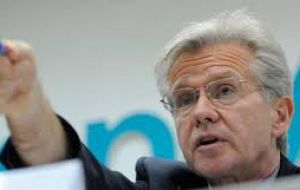 The International Monetary Fund said Wednesday it will review Argentina's progress on improving its economic statistics in December, after censuring the country last February for supplying poor data.
Spokesman Gerry Rice said the IMF management had sent a report to the executive board Wednesday on Buenos Aires's response to IMF "concerns" about the country's inflation and gross domestic product data.
He would not reveal anything about the report's conclusions, but said the board would review the report on December 9.
After a critical report on Argentina last year, the board took the unprecedented step of censuring an IMF member, saying the country had made insufficient efforts to meet its standards for inflation and GDP data.
Though the board took no further action, giving Buenos Aires the rest of 2013 to improve its statistics, the censure decision has the potential to open the way for the Latin American country to lose its voting rights or membership at the IMF.
Last week Rice said talks with Argentina over its data improvement had been "constructive".
Government critics in Argentina have said for years that the government vastly understates inflation and overstates growth for political and other ends.
In October, the official year-on-year inflation rate stood at 10.3%, while a group of private sector economists put the figure at 26%. Relations between the IMF and Argentina have been troubled for years.
In January 2006, the government paid off Argentina's debt with the IMF -- some 9.5 billion dollars -- and cut links with the Fund.
Since then Argentina has been the only country in the G20 that does not allow annual economic assessments by official IMF teams.